Instant pot shrimp-stuffed potatoes. Get dinner on the table in a flash with this easy Instant Pot recipe for cheesy shrimp-stuffed potatoes. Tender, flavorful potatoes are stuffed with succulent shrimp and sour cream, creating a delicious meal that's sure to become a family favorite.
Health Benefits of an Instant Pot Shrimp-Stuffed Potato Dinner
If you're looking for a healthy and delicious dinner that can be ready in 10 minutes, an Instant Pot shrimp-stuffed potato dinner is the perfect solution.
Not only is it low in carbs, but it also packs a punch of protein and other essential nutrients. Plus, it's incredibly easy to make and can be adjusted to fit any dietary needs or preferences.
How to Peel Shrimp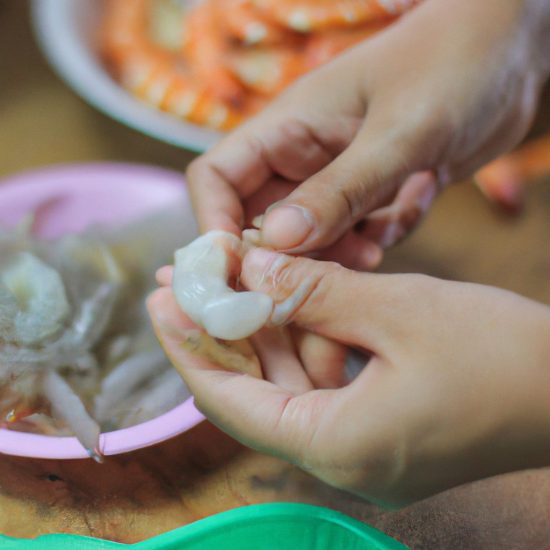 Peeling shrimp is a skill that anyone can learn. It's not difficult, but it does require some practice and patience. With the right technique, you can quickly and easily peel shrimp in a matter of minutes!
We'll also discuss some tips and tricks to help make the process easier. So get ready to learn how to peel shrimp like a pro! The first step in peeling shrimp is to get your hands ready. You want to make sure that you're using a firm grip so that you can easily remove the shell from the shrimp.
Have a bowl of ice water near, just in case you need it for your fingers.Let's start with raw shrimp on their shells. Many people like to place each shrimp on its shell into the boiling water before cooking them because it helps keep their shape and makes them easier to peel off their shells when they're cooked. If this is the case for you, then skip ahead!
Otherwise, proceed with the following .- Put the shrimp in boiling water, cover, and cook for 3 minutes.- Remove the shrimp with a slotted spoon or tongs and place them in ice cold water to stop the cooking process.
Let them sit in there until they're cool enough to handle. You can peel off their shells right away or you can let them sit for a few more minutes in case they've stuck on your fingers.
Instant Pot Shrimp-Stuffed Potatoes
You may also like:
Slow Cooker Lasagna-Stuffed Peppers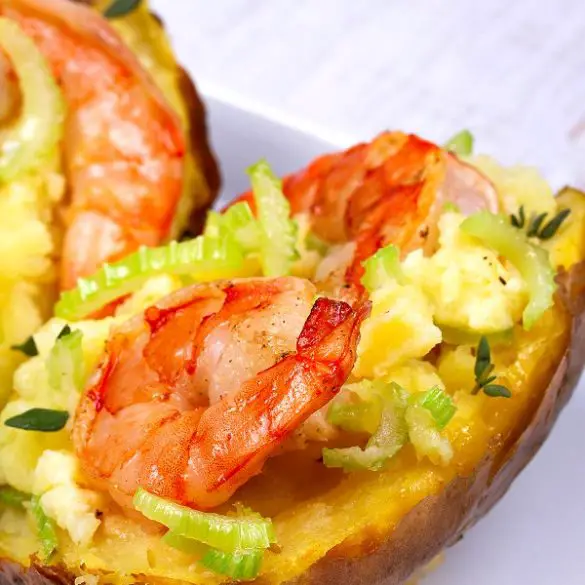 Ingredients
2 russet potatoes, rinsed

1 cup (250 ml) water

3 tablespoons heavy cream

1 tablespoon unsalted butter

2 tablespoons shredded Cheddar cheese

1 stalk celery, chopped

3/4 teaspoon salt

1/2 teaspoon garlic powder

10 cooked shrimp, deveined
Instructions
Poke russet potatoes several times with a fork, then place them on a rack in an electric instant pot. Pour water into the cooker.
Set the machine to cook to high pressure. Set the timer to cook for 15 minutes.
Using the natural Release method, bring pressure to normal. Carefully unlock and open the lid.
Remove baked potatoes from the cooker and transfer them to a plate. Set aside and allow them to cool.
Cut the potatoes in half and scoop out the flesh. transfer the flesh to a medium mixing bowl.
Add the celery, heavy cream, cheese, butter, garlic powder, salt, and shrimp. Mix well.
Stuff the potato boats with the shrimp mixture and place them on a baking dish.
Place stuffed potatoes under the broiler and broil on high for 2-3 minutes.
Remove baked stuffed potatoes from the broiler and transfer them to a serving plate.
Serve immediately.