Low-carb turkey meatball soup recipe. This is a very healthy, light, and delicious soup with meatballs and vegetables.
You may also like to prepare The Best Chicken Noodle Soup, another easy and healthy soup.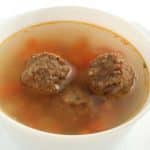 Ingredients
1/2 pound (240 g) ground turkey

1½ tablespoons (22 g) oat bran

2 tablespoons (30 ml) minced fresh parsley

1/2 teaspoon (3 ml) salt

1/2 teaspoon (3 ml) poultry seasoning

dash of freshly ground black pepper

1 tablespoon (15 ml) olive oil

1/2 cup (125 ml) sliced carrots

1 tablespoon (15 ml) minced yellow onion

1 clove garlic, peeled and crushed

4 cups (1 L) low-sodium fat-free chicken broth

1 teaspoon (5 ml) dried oregano leaves
Instructions
In a large mixing bowl, combine the ground turkey, oat bran, minced parsley, salt, poultry seasoning, and black pepper. Mix well. Form the turkey mixture into balls and set aside.
In a large saucepan, heat the olive oil over medium-high heat. Add sliced carrots and saute, stirring occasionally, for 2-3 minutes. Add onions and garlic and continue cooking and stirring occasionally, for a further 5-7 minutes.
Pour in the broth, then stir in dried oregano and bring the soup to a simmer over medium-low heat. Simmer, uncovered, for 15 minutes.
Drop the turkey meatballs into the soup, one by one, and continue simmering for another 10-15 minutes.
Turn off the heat. Stir the soup well before serving. Ladle into soup bowls. Serve hot.