Slow cooker spinach and kale quiche recipe. An excellent healthy breakfast cooked in a slow cooker. You may also like Oatmeal Breakfast, another delicious recipe cooked in a crock pot.
Looking for more slow cooker recipes? Please check out a big collection of them-Slow Cooker Recipes
Slow Cooker Spinach and Kale Quiché Recipe
To prepare this recipe you need a 4-quart (4 L) slow cooker, slow cooker liner, and nonstick cooking spray.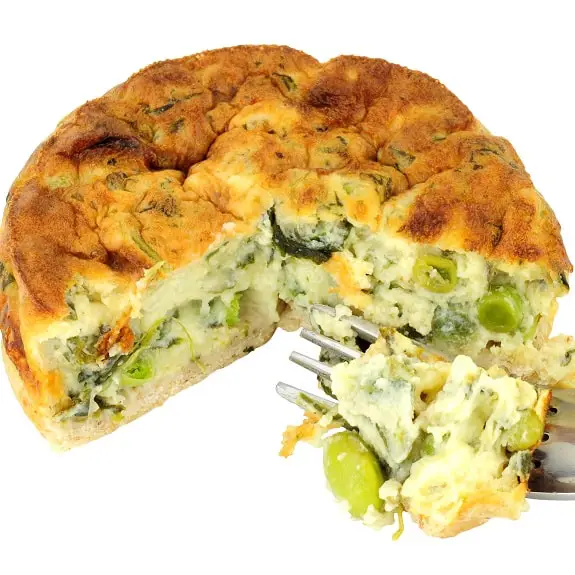 Ingredients
1 tablespoon (15 ml) olive oil

1½ cups (375 ml) shredded Gruyère cheese

10 oz (300g) package frozen chopped spinach, thawed, drained, and squeezed dry

8 large eggs, beaten

1 cup (250 ml) chopped kale

2 cups (500 ml) half-and-half

1/2 teaspoon salt

1/4 teaspoon freshly ground black pepper

1/2 cup (125 ml) biscuit mix
Instructions
Line a 4-quart (4 L) slow cooker with slow cooker liner, then grease it with nonstick cooking spray.
In a medium skillet, heat olive oil over medium heat. Add the spinach and cheese and cook, stirring occasionally, until spinach wilted.
In a medium mixing bowl, combine beaten eggs, half-anf-half, salt, and black pepper. Stir the egg mixture into spinach mixture. Gently fold in biscuit mix. Pour the mixture into greased slow cooker.
Cover the pot and cook on low-heat setting for 4½-5 hours or until a toothpick inserted into the center of quiche comes out clean.
Turn off the slow cooker and open the lid. Carefully remove baked quiche and transfer to a serving plate. Cool for 15 minutes before serving.