Air fryer herbed pita chips. Herbed pita chips are a perfect vegan side dish for any occasion! They are crispy, crunchy, and delicious. You can enjoy them with hummus or guacamole.
What are the benefits of air frying pita chips?
Air frying pita chips is an alternative to the traditional deep-frying process. Air frying is healthier, faster, and easier than deep-frying.
Air frying pita chips are healthier because it uses less oil than deep-frying does. This means that it has less fat content which leads to a lower calorie count. It also has less saturated fat which leads to a healthier heart and lowers cholesterol levels. Air frying also produces less smoke and carcinogens than deep-frying which can lead to a longer life expectancy for the consumer.
Air frying pita chips is faster because it cooks in minutes instead of hours or days like deep-frying does. It doesn't need any preheating time, so this means that you can cook your food as soon as you place it in your air fryer.
How can I substitute other spices or herbs in this recipe?
It is possible to substitute other spices or herbs in this recipe. But it will depend on the flavor profile that you are going for, and the flavors of the dish.
You can try using tarragon instead of thyme, or rosemary instead of oregano.
For a more spicy flavor, you can use cumin instead of thyme.
Are herbed pita chips vegan?
Making these herbed pita chips vegan is not too difficult as it only requires a few ingredients. The first step is to make the dough for the pita chips by combining flour, salt, and oil in a bowl. Next, you will need to cut the dough into strips and then place them on a baking sheet.
After that, you will need to brush the dough with olive oil and sprinkle your desired herbs on top before placing them in an air fryer set at 330 degrees Fahrenheit for 5 minutes or until they are browned. Finally, they can be sprinkled with salt if desired or served as is!
Air Fryer Herbed Pita Chips
You may also like:
Instant Pot Red Lentil Soup Recipe
Slow Cooker Vichyssoise Soup Recipe
Slow Cooker Vidalia Onion Soup Recipe
Air Fryer Polenta Chips Recipe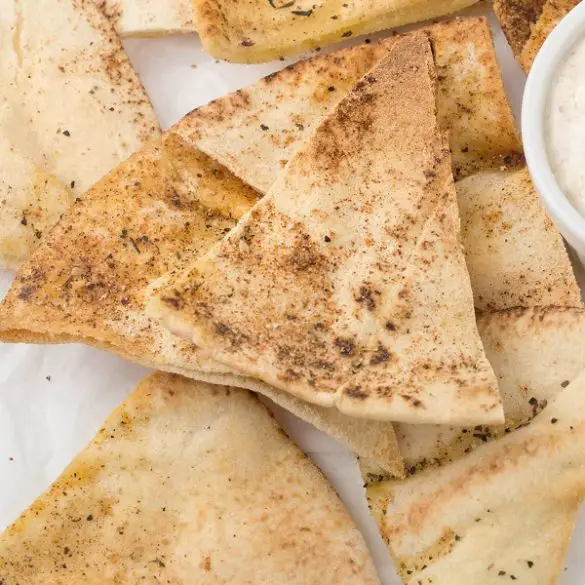 Ingredients
1/4 teaspoon dried basil

1/4 teaspoon dried marjoram

1/4 teaspoon ground oregano

1 teaspoon garlic powder

1/4 teaspoon ground thyme

1/4 teaspoon salt

2 whole 6-inch (15 cm) pitas (whole grain or white)
Instructions
In a small mixing bowl, combine all herbs and seasoning. Mix well.
Cut each pita half into 4 wedges, breaking apart wedges at the fold.
Spray one side of the pita with cooking spray, then sprinkle with half of the seasoning mix.
Turn the pita over, spray with more cooking spray and sprinkle with the remaining seasoning.
Place seasoned pitas in the air fryer basket. Fry at 350º F (175º C0 for 4 minutes, or until crisp, shaking halfway through.