Air fryer corn nuts recipe. The best way to enjoy fried corn nuts – without the fat, calories, and mess. This snack tastes just like deep-fried corn nuts, but without the guilt.
How Air Fryers Work and Why You Should Use Them
Air fryers are a great way to cook food without using oil. They work by circulating hot air around the food and this makes them crispy on the outside and moist on the inside.
Air fryers are becoming increasingly popular in homes because they are healthier than cooking with oil. The best part is that you don't need any special skills or cooking knowledge to use them.
Common Mistakes when Making Air Fryer Corn Nuts
Air fryer corn nuts are a popular snack that is easy to make and delicious. But, there are some common mistakes that people make when they try to make them.
1) Not using enough oil: Add a tablespoon of oil to the air fryer and shake it around so that the entire bottom of the pan is covered with oil. This will help prevent the corn nuts from sticking to the pan.
2) Not shaking them enough: Shake them every 2 minutes for 15 seconds at a time, then shake again in 10 minutes. This will ensure that they don't burn or stick to each other too much.
3) Using too much salt: Be careful not to add too much salt because it can cause your corn nuts to burn faster and you may need more oil.
Air Fryer Corn Nuts Recipe
You may also like:
Instant Pot Red Lentil Soup Recipe
Slow Cooker Vichyssoise Soup Recipe
Slow Cooker Vidalia Onion Soup Recipe
Air Fryer Polenta Chips Recipe
Air Fryer Breaded Olives Recipe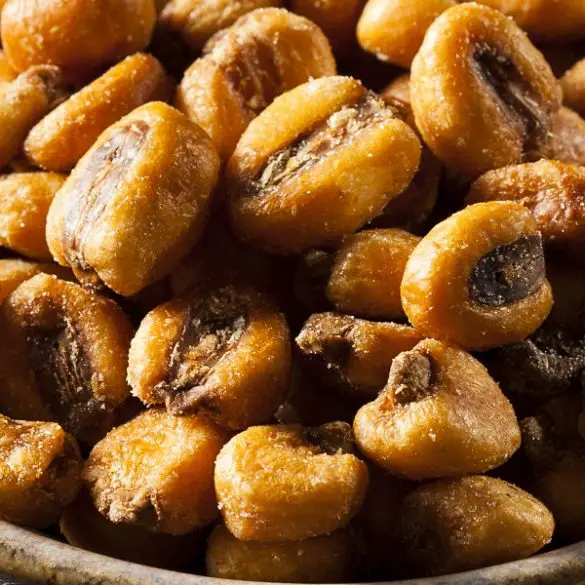 Ingredients
14 oz (420 g) giant white corn, soaked overnight

3 tablespoons vegetable oil

1½ teaspoons salt
Instructions
Drain soaked corn and spread it in a single layer on a large baking sheet.
Pat dry with paper towels. Air dry for 20 minutes.
Preheat your air fryer to 400º F (200º C) for 5 minutes.
In a large bowl, combine dried corn, oil, and salt. Stir well.
Working in batches, place corn in the air fryer basket. Fry for 20 minutes, shaking the basket halfway through.  Shake the basket again and fry for a further 5 minutes.
Remove fried corn from the fryer and transfer it to a paper towel-lined plate.
Repeat with the remaining corn. Let the corn cool until crisp, for about 20 minutes. Enjoy!