Slow cooker Vidalia onion soup recipe. This is a super easy slow cooker recipe for Vidalia onion soup. In about 10 minutes of prep time, you'll have a delicious soup ready to be eaten anytime.
What is the difference between Vidalia onions and regular onions?
Vidalia onions are sweeter and less pungent than regular onions. This is because they are grown in a specific region, Vidalia, Georgia.
Regular onions come in many different varieties and can be found all over the world.
What is the best way to cook Vidalia onions?
Cook Vidalia onions the right way with these instructions.
– Peel Vidalia onions and cut into 1/4 inch slices.
– Add butter to a large skillet over medium heat. Once the butter has melted, add Vidalia onion slices to the pan and cook for about 5 minutes, stirring occasionally. Add salt and pepper to taste.
Slow Cooker Vidalia Onion Soup Recipe
You may also like:
Slow Cooker Bean and Barley Soup Recipe
The Best Instant Pot Turkey Soup
Classic Hungarian Goulash Soup Recipe
Hearty Diet Cabbage Soup Recipe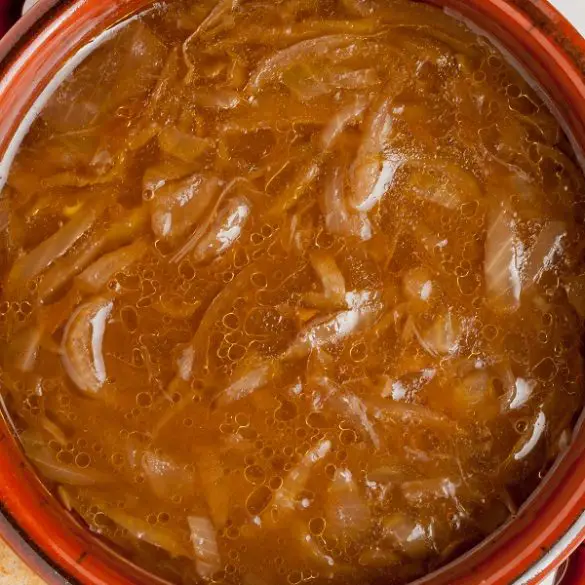 Ingredients
6 cups (1.5 L) vegetable broth

6 cups thinly sliced Vidalia onions

2 cloves garlic, peeled and minced

1 teaspoon sugar

1½ teaspoons dried sage leaves

2 bay leaves

2 tablespoons cornstarch

1/4 cup (60 ml) cold water

salt and white pepper, to taste
Instructions
In a 6-quart (6 L) slow cooker, combine all ingredients, except cornstarch, water, and seasoning. Mix well.
Cover the pot and cook on a high-heat setting for 5-6 hours.
Turn off the cooker and open the lid. Discard bay leaves.
Stir in combined cornstarch and water. Season to taste with salt and white pepper.
Serve hot.