Slow cooker vichyssoise soup recipe. This classic vichyssoise recipe has been made even easier by using a slow cooker. All of the soup-making steps are done in just one pot. It's perfect for entertaining since all of the cooking is done ahead of time.
What is vichyssoise soup?
This soup is a popular dish in the United States. The soup originated in France and is made of potatoes, leeks, cream, and vegetable stock.
It is a thick soup that tastes great when served cold. It can be served as an appetizer or as a main course. The soups are usually served with crackers or bread that are toasted, but they can also be served with croutons.
What are the benefits of using a slow cooker to make vichyssoise soup?
Slow cookers are a great way to make soups, stews, and chilis. They are perfect for cooking large batches of food for parties or potlucks. They are also great because it is easy to throw all the ingredients in the pot and let it cook on its own.
There are many benefits of using a slow cooker to make vichyssoise soup. The soup will be cooked thoroughly and evenly which will give it a smoother texture than if you were to use other methods of cooking like boiling or steaming. This is because the temperature is held at a constant level which allows the food to cook more slowly and evenly than with other methods, so the flavors have time to blend together better.
Slow Cooker Vichyssoise Soup Recipe
You may also like:
Slow Cooker Vidalia Onion Soup Recipe
Slow Cooker Bean and Barley Soup Recipe
Air Fryer Butternut Squash Soup Recipe
Instant Pot Healthy Chicken Noodle Soup Recipe
Instant Pot Chicken Meatball Soup Recipe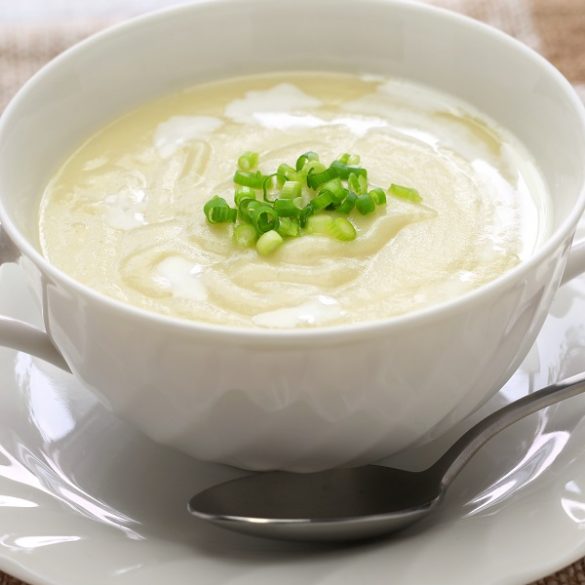 Ingredients
4 cups (1 L) low-sodium and fat-free chicken broth, divided

1 pound (480 g) red potatoes, unpeeled, halved

1 medium leek (white part only)

1 poblano and jalapeno chili

6 cloves garlic, peeled

1½​ teaspoons ground cumin

1/2 teaspoon chili powder

1/2 teaspoon dried oregano

1/2 cup (125 ml) 2% reduced-fat milk

1 tablespoon cornstarch

1/4 cup chopped green onions

salt to taste
Instructions
In a 6-quart (6 L) slow cooker, combine all ingredients, except milk, cornstarch, cilantro, and salt. Mix well.
Cover the pot and cook on a high-heat setting for 4-5 hours.
Open the id and stir in combined milk and cornstarch.
Turn off the cooker. Transfer the soup to a food processor.
Process until smooth. Ladle into soup bowls.
Sprinkle with chopped green onions. Season to taste with salt.
 Serve hot.