Slow cooker chickpea and potato tikka masala. Enjoy a delicious and authentic slow-cooked Indian dinner with this easy chickpea and potato tikka masala. With just a few simple ingredients, you can create a flavorful, fragrant meal that your whole family will love. Get ready to enjoy this comforting dish on its own or over rice.
What is Tikka Masala and How to Make an Easy Version with Your Slow Cooker
Tikka Masala is a delicious and popular Indian dish that has become a staple in many households. It is made with a creamy tomato-based sauce, which is often spiced with garam masala and other spices. This dish can be made with chicken, beef, or vegetables – but the most popular version is made with chickpeas and potatoes.
Making Tikka Masala in your slow cooker is an easy way to enjoy this flavorful dish without having to spend too much time in the kitchen. With just a few simple ingredients and some basic instructions, you can create a delicious meal that will satisfy even the pickiest eater! In this article, we will discuss what Tikka Masala is, how to make an easy version using your slow cooker, and some tips for getting the best results.
What is the Perfect Combination of Slow Cooker Chickpea and Potato Tikka Masala?
Chickpea and potato tikka masala is a delicious Indian curry that combines the flavors of chickpeas, potatoes, and spices to create a flavorful and comforting dish. This combination of ingredients makes it the perfect meal for a chilly night or when you're looking for something easy to prepare.
The slow cooker helps to infuse all the flavors together while cooking, creating a rich and creamy sauce that you can enjoy with rice or naan bread. To make this dish even more delicious, adding peas, tomatoes, or other vegetables can help to add texture and flavor. With just the right combination of ingredients, you can have a flavorful meal ready in no time!
Serving Suggestions for a Delicious and Filling Meal
If you're looking for a delicious and filling meal, look no further than this chickpea potato dish. It's a great way to get your daily dose of protein and fiber, while also satisfying your taste buds.
This dish is easy to make and can be served as a side or main course. Serve it with some fresh vegetables and you have yourself a nutritious meal that is sure to please everyone at the table. Enjoy!
Slow Cooker Chickpea and Potato Tikka Masala
You may also like:
Instant Pot Cajun Rice and Sausages
Instant Pot Cajun Rice and Sausages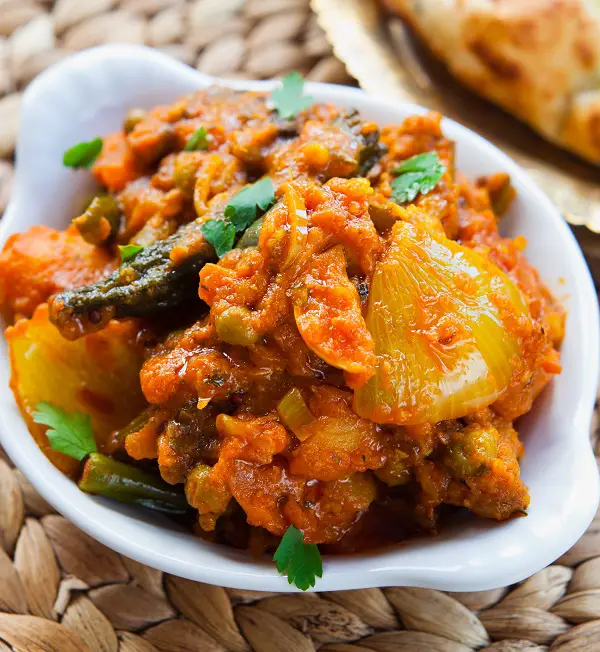 Ingredients
For the Spice Blend;

1 tablespoon garam masala

1 tablespoon paprika

2 teaspoons ground cumin

1½  teaspoons sea salt

1 teaspoon ground coriander

1 teaspoon sugar

1 teaspoon ground turmeric

1/4 teaspoon cayenne pepper

To Make Tikka Masala:

1 tablespoon coconut oil

1 yellow onion, peeled and sliced

3 cloves garlic, peeled and minced

1 tablespoon grated ginger

3 cups diced yellow potatoes

2 cups (500 ml) tomato puree

19 oz (570 ml) can chickpeas, drained and rinsed

14 oz (420 ml) can of fire-roasted tomatoes

1 cup diced celery

1/2 pound green beans

1 tablespoon freshly squeezed lemon juice

3/4 cup cashews, soaked and rinsed
Instructions
In a small bowl, combine the spice blend ingredients. Stir until well combined. Set it aside.
Heat the coconut oil in a small nonstick skillet over medium heat. Add onions and saute, stirring occasionally, until translucent, for about 3 minutes.
Add the garlic and ginger. Continue cooking and stirring occasionally, for a further 30 seconds.
Remove the mixture from the skillet and transfer it to a slow cooker. Add the remaining ingredients, except cashews and lemon juice.
Cover the pot and cook on a high-heat setting for 4 hours.
Meanwhile, place rinsed cashews in a blender. Blend until smooth and creamy.
Turn off the cooker and open the lid. Stir in the blended cashews and lemon juice.
Serve immediately.