Slow cooker chickpea curry. Make this delicious and nutritious chickpea curry for a hearty meal. All you need are a few simple ingredients, and you can have an authentic Indian dish that is full of flavor, and easy to prepare.
With just a few minutes of prep time, you'll have this amazing dish ready to serve in no time. If you don't have a slow cooker, this recipe will also work for stovetop cooking. Simply cook the chickpeas in a saucepan on medium heat until tender.
What is Slow Cooking and What are the Benefits?
Slow cooking is an easy and convenient way to prepare meals. It involves cooking food over low heat for a longer period of time, usually in a slow cooker or crock pot.
Slow-cooked meals are known for their rich flavors and tender textures, as well as their convenience. Slow cooker recipes can be used to make tasty and nutritious dishes that require minimal effort from the cook. In this article, we will discuss the basics of slow cooking, its benefits, and some delicious slow cooker recipes to try.
The Health Benefits of Eating Slow-Cooked Chickpea Curry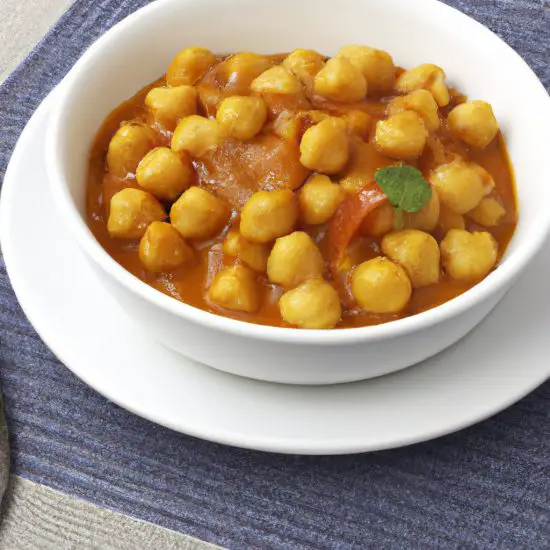 Chickpea curry is a delicious and nutritious meal that can provide you with numerous health benefits. It is packed with fiber and protein, making it a great option for vegans who are looking for healthy meals.
Additionally, the slow cooking process helps to retain the nutrients in the chickpeas, lentils, and beans. Eating this type of meal on a regular basis can help to improve your overall health and well-being.
Chickpea curry is a delicious and nutritious vegan meal that can be easily prepared in your crockpot. It is a high-protein, plant-based meal that is packed with vitamins and minerals.
Eating chickpea curry regularly can provide numerous health benefits, such as improved digestion, increased energy levels, better heart health, and weight loss.
Slow Cooker Chickpea Curry
You may also like:
Slow Cooker Lasagna-Stuffed Peppers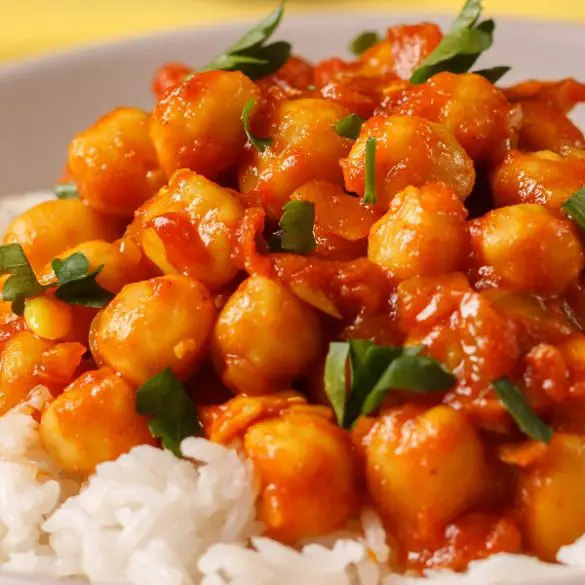 Ingredients
1 tablespoon olive oil

1 medium yellow onion, peeled and diced

1 pound (480 g) dried chickpeas, rinsed

2 tablespoons curry p[owder

1 28 oz (840 ml) can of diced tomatoes

1 15½oz (465 ml) can of coconut milk

1¼ cups (310 ml) water

3 cloves garlic, peeled and minced

1 diced serrano pepper

1 teaspoon salt

chopped fresh cilantro, to serve
Instructions
Grease the bottom of a slow cooker with olive oil. Add chopped onions and stir well to coat.
Top with dried chickpeas, then sprinkle the curry powder evenly over the chickpeas.
Follow with diced tomatoes, coconut milk, water, garlic, serrano pepper, and salt. Do not mix.
Close the pot and cook on a low-heat setting for 6-8 hours, or until the chickpeas are tender.
Turn off the cooker and open the lid. Stir the chickpea mixture well before serving.
Sprinkle with chopped fresh cilantro. Serve hot over the cooked rice.
Enjoy!