Instant pot potato soup. Make a delicious and nutritious potato soup with your Instant Pot in no time! This easy recipe only requires simple ingredients and is perfect for a quick lunch or dinner. Plus, you can adjust seasonings to your liking. Enjoy!
What is Potato Soup and What Are Its Health Benefits?
Potato Soup is a delicious and nutritious dish that can be cooked quickly and easily in an Instant Pot. It's a great way to get your daily dose of vegetables while enjoying a comforting bowl of soup.
Not only is it nutrient-dense, but it also provides many health benefits.
Choosing the Best Potatoes for Your Potato Soup
Potatoes are a staple in many households and can be used to make delicious soups. When making potato soup in an Instant Pot, it's important to choose the right kind of potatoes to get the best results. Different types of potatoes have different textures and flavors, so you'll want to select the right ones for your soup.
How to Choose the Best Potatoes for Your Soup There are a few key factors that determine which potatoes you should use in your soup. These include size, shape, color, and whether they have eyes. The type of potato you use will depend on what these factors indicate. Here is a list of the best potatoes for soups that you can find at most stores: • russet potatoes• boiling, baking, or baby potatoes.
Yukon Gold potatoes You'll need to use a variety of different types of potatoes in order to create the perfect onion, potato, and leek soup.
Instant Pot Potato Soup
You may also like:
Instant Pot Shrimp-Stuffed Potatoes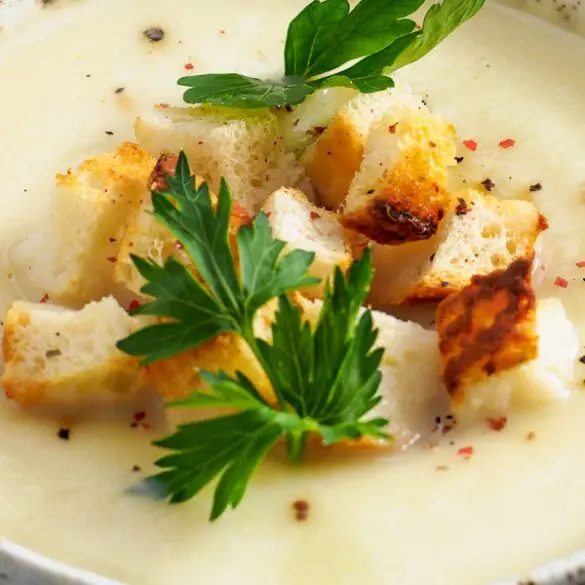 Ingredients
2 tablespoons olive oil

5 leeks, trimmed, washed, and thinly sliced

1 pound (480 g) potatoes, peeled and cubed

4 cups (1 L) vegetable stock

1/2 teaspoon ground nutmeg

freshly ground black pepper, to taste

1/2 cup (125 ml) almond milk
Instructions
Heat the olive oil in an electric instant pot turned to saute mode.
Add leeks and saute, stirring occasionally, for about 5 minutes, or until soft.
Add cubed potatoes, and continue cooking and stirring for a further 2-3 minutes.
Pour in the vegetable stock, then stir in ground nutmeg, salt, and black pepper.
Close the pot and lock the lid. Set the machine to cook to high pressure.
Set the timer to cook for 10 minutes.
Using the Natural Release method, bring pressure to normal.
Carefully unlock and open the lid. Pour in almond milk.
Using an immersion blender, puree the soup. Season with more salt and black pepper, if needed.
Serve with croutons.