Air fryer Parmo. It's time to fry without the frying! The Air Fryer is here to revolutionize your cooking experience. It cooks food up to 3x faster and uses 75% less oil than traditional frying methods. It's also healthier and easy,
Parmesan Cheese Air Fryer Recipe and the Health Benefits of Using an Air Fryer
Air Fryers are all the rage these days. They are a healthy alternative to deep frying and they can cook food in a fraction of the time.
An air fryer is a type of kitchen appliance that uses hot air to cook food by circulating it around. This method is called convection cooking and it's more energy efficient than traditional ovens because it doesn't use as much heat, which means less energy is used.
The problem with deep frying food is that the process requires a large amount of oil, which can lead to an increased risk of heart disease, obesity, and diabetes. Air fryers solve this problem by using less oil than other methods, so you can enjoy your favorite fried foods without worrying about your health!
Air Fryer Parmo Recipe – The Original Parmesan Chicken
Parmo Recipe – The Original Parmesan Chicken is a tasty and easy recipe. It is perfect for when you want to enjoy a traditional Italian dish in less than 30 minutes.
The Parmesan chicken can be cooked on the stovetop or in an air fryer. The cooking time will vary depending on the type of cooking appliance that you use.
The air fryer Parmo recipe is easy to make and it has very little mess to clean up afterward because all of the oil is contained in the air fryer pan.
Air Fryer Parmo
You may also like:
Slow Cooker Lasagna-Stuffed Peppers
Slow Cooker Lentil-Stuffed Cabbage Rolls
Slow Cooker Camembert Bread Bowl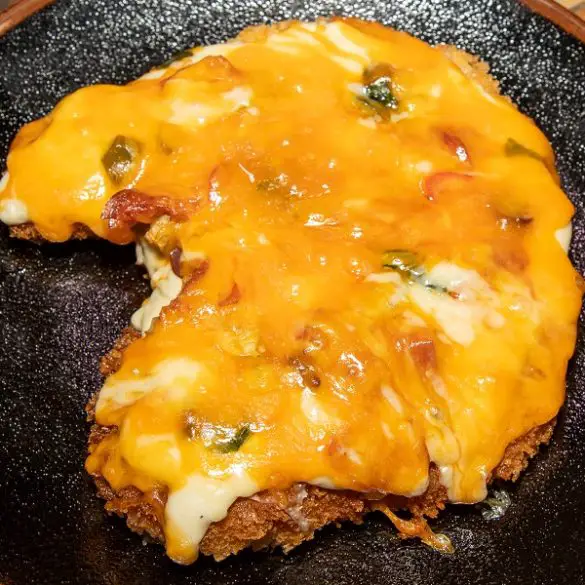 Ingredients
2 large skinless and boneless chicken breasts

freshly ground black pepper and kosher salt, to taste

1/3 cup all-purpose flour

2 large eggs, beaten

1 cup Panko breadcrumbs

1/4 cup grated Parmesan cheese

1 teaspoon dried oregano

1/2 teaspoon crushed red pepper flakes

1/3 teaspoon garlic powder

1 cup (250 ml) marinara sauce

1 cup shredded Mozzarella cheese
Instructions
Cut the chicken in half lengthwise to create 4 pieces.
Then carefully butterfly the chicken by cutting through one side of it so that it opens up like a book. Afterward, cut in half widthwise all the way through.
Season both sides of the meat with salt and black pepper.
In a shallow bowl, combine all-purpose flour, a large pinch of kosher salt, and black pepper. Stir well.
Place beaten eggs in another shallow bowl.
In a third shallow bowl, combine the breadcrumbs, grated parmesan, oregano, red pepper flakes, and garlic powder. Mix well.
Before cooking, first, coat the chicken in flour and shake off any excess.
Dip the chicken in egg and then gently press into panko, making sure both sides are well coated.
Working in batches, fry the chicken at 400º F (200º C) for 10 minutes, turning the chicken halfway through.
Top fried chicken with marinara sauce and shredded Mozzarella cheese. Continue cooking until the cheese is melted and golden, for a further 3 minutes.