Slow cooker Irish colcannon. Try this traditional Irish dish with a modern twist! Slow cooker colcannon is easy to make, and the result is creamy, hearty comfort food that the whole family will love. Made from potatoes, cabbage, and bacon, this savory dish is a delicious way to bring a hearty Irish meal to life.
What is Irish Colcannon and How To Cook It?
Irish Colcannon is a traditional Irish dish that is a combination of mashed potatoes, cabbage, and onions. It is usually served as a side dish with meats such as corned beef or bacon. It can also be served as an appetizer or main course. This delicious and comforting dish has been around for centuries and is still enjoyed by many today.
If you're looking for an easy way to make this classic Irish dish, try cooking it in the slow cooker! This slow cooker recipe will give you the traditional taste of Irish Colcannon without all the hassle of boiling and mashing potatoes. With just a few simple ingredients and some time in the slow cooker, you can enjoy this delicious meal anytime!
The Benefits of Adding Herbs & Spices to Your Colcannon
Herbs and spices can add a unique flavor to your colcannon, making it more enjoyable and nutritious. Adding herbs and spices to your colcannon is an easy way to enhance the flavor of this traditional Irish dish without adding extra calories or fat.
In addition, herbs and spices offer a variety of health benefits such as anti-inflammatory properties, antioxidants, and even improved digestion. By adding different types of herbs and spices to your colcannon, you can create a delicious meal that is full of flavor while also providing essential nutrients.
A Step-by-Step Guide to Making Slow Cooker Irish Colcannon
Slow cooker Irish Colcannon is a delicious and hearty dish that is easy to make and requires minimal effort. This step-by-step guide will show you how to make this traditional Irish dish in a slow cooker, with all the ingredients needed for a delicious meal. From boiling potatoes and cabbage to adding butter and cream for the perfect texture, this guide will provide you with all the tips and tricks you need to make your own Slow Cooker Irish Colcannon.
So grab your slow cooker, get your ingredients ready, and let's get cooking! What is Irish Colcannon? This dish usually consists of mashed potatoes mixed with milk and butter, eggs, and minced or strained kale. The sauteed mixture is then mixed in with a bit of shredded cabbage and seasoned to taste. The Irish Colcannon recipe uses scallions and kale instead of cabbage, but the end result is almost identical.
Slow Cooker Irish Colcannon
You may also like:
Slow Cooker Lentil-Stuffed Cabbage Rolls
Slow Cooker Sticky-Toffee Pudding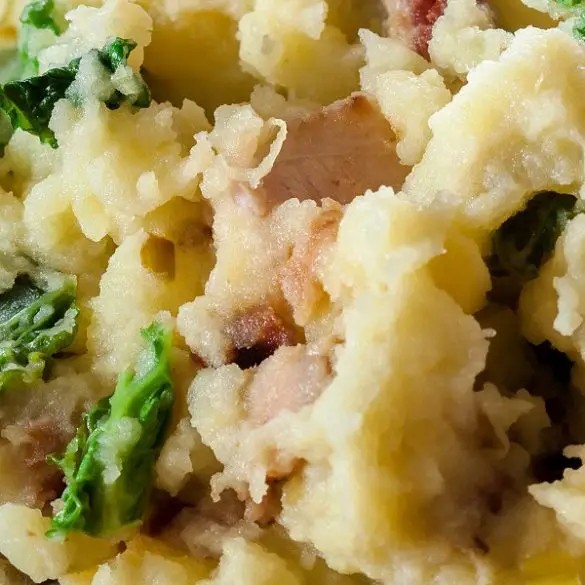 Ingredients
2 pounds (1.44 kg) Russet potatoes, peeled and diced

1/2 head cabbage, roughly chopped

4 chicken bouillon cubes

1/2 teaspoon garlic powder

1/2 teaspoon onion powder

water

1/2 cup (125 ml) half-and-half (heavy cream)

1/2 cup (125 ml) salted butter, melted

3/4 teaspoon salt

1/2 teaspoon freshly ground black pepper

8 slices bacon, cooked and crumbled

1/2 cup sliced green onions (optional)
Instructions
In a slow cooker, combine the potatoes and cabbage. Add the chicken bouillon cubes, garlic powder, and onion powder.
Pour over enough water to cover the potatoes and cabbage, making sure you don't fill your slow cooker to the top.
Cover the pot and cook on a high-heat setting for 4 hours.
Turn off the cooker and open the lid.
Remove the water from the potatoes and cabbage by draining it.
Add the melted butter, half-and-half, salt, and black pepper.
Using a masher, mash the potatoes. Add cooked bacon.
Enjoy!