Slow cooker bean and barley soup recipe. A hearty soup that will warm your soul on a cold winter day.
This healthy soup is one of the easiest to make on a busy day. It is rich in fiber and protein, making it more filling. This bean and barley soup is made with dried beans, beef broth, barley, onion, garlic, thyme, salt, and pepper.
Soup makes for an easy meal idea on any night of the week. It's easy to whip up a batch of soup when you get home from work or school or have some free time in the evening. This hearty bean and barley soup will satisfy your hunger while being healthy too!
What is the best way to serve this soup?
This soup is best served with a side of crusty bread.
Is this bean and barley soup healthy?
The ingredients in this soup are both nutritious and healthy. The cooking process is also healthy because it does not require any additives or preservatives. Lastly, the soup contains many vitamins and minerals that contribute to its nutritional value which makes it a fairly healthy meal in my opinion.
What other vegetables can I add to this soup?
This soup is delicious and filling, but there are many other vegetables that you can add to it. Some vegetables that would go well with this recipe are asparagus, broccoli, and cauliflower.
What other dishes can I cook in a slow cooker?
A slow cooker is a great appliance to have in your kitchen. It can be used to cook many dishes, including soups, stews, beans, rice, and more.
It is important to know that not all dishes are suitable for slow cooking. For example, dishes with a lot of liquid or those that need stirring should not be cooked in the slow cooker.
Slow Cooker Bean and Barley Soup Recipe
You may also like:
Air Fryer Butternut Squash Soup Recipe
Air Fryer Chestnuts: Delicious and Easy Holiday Treat
Instant Pot Vegan Paella Recipe
Slow Cooker Vegetable and Chickpea Stew Recipe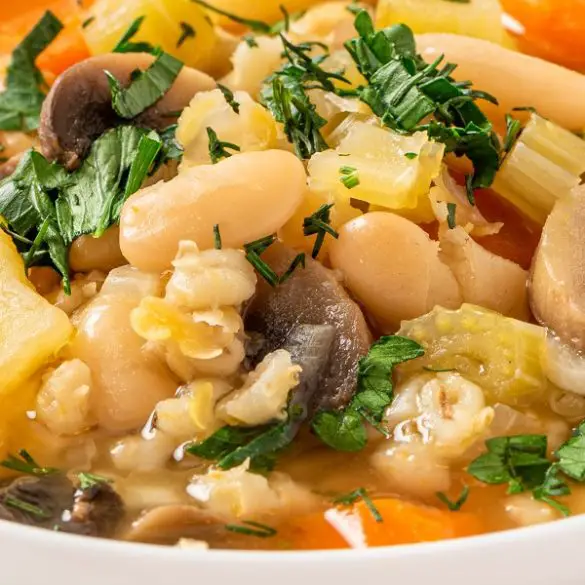 Ingredients
7 cups (1.75 L) beef broth

2 cans (15 oz (450 ml) each) Great Northern beans, rinsed and drained

1½ cups chopped yellow onions

1 cup chopped carrots

1/2 pound (240 g) mushrooms, sliced

1 stalk celery, chopped

1 large potato, peeled and cubed

1 teaspoon minced garlic

1/8 teaspoon crushed red pepper

2 teaspoons dried thyme

1/2 cup quick-cooking barley

1 tablespoon freshly squeezed lemon juice

salt and freshly ground black pepper, to taste
Instructions
In a 6-quart (6 L) slow cooker, combine all ingredients, except quick-cooking barley, lemon juice, and seasoning. Mix well. Cover the pot and cook on a high-heat setting for 4-5 hours, adding barley during the last 30 minutes. Turn off the cooker and open the lid. Stir in lemon juice, then season with salt and black pepper. Stir well before serving. Serve hot.