Instant pot vegan paella recipe. This vegan paella is a one-pot dish made with saffron rice, vegetables, and spices. It's a perfect dish for meatless Mondays or lunches any day of the week.
What is the difference between this vegan paella and other types of paella?
The paella is a traditional Spanish dish made of rice, vegetables, and meat.
Vegan paella is a Spanish dish made with rice, vegetables, and sometimes beans or lentils, but no animal proteins (no eggs, cheese, or meat), and typically seasoned with saffron and other spices.
The vegan paella does not use any animal proteins which makes it different from the traditional Spanish paella. Also, while the traditional version includes meat in some form or another, vegan paellas do not have any animal protein in them at all.
How does this dish compare to other dishes that are similar?
This dish may be similar to other dishes, but it is still different. It has its own characteristics.
In this dish, I could see the seasonings and how they mixed with the ingredients and made for a delicious taste. There was also a balance of sweet and salty notes that made for a great dish.
Is there anything you should keep in mind when cooking with an instant pot?
There are some things you should keep in mind when cooking with an instant pot. First, the instant pot only has one setting for heating, so it's important to make sure that you are not under-cooking or overcooking your food, meaning it is important to know what your target temperature is for this dish. Secondly, make sure to season the food before cooking, or else the food will be bland and tasteless. Lastly, make sure to use the rack provided with your instant pot; this will prevent anything from sticking to the bottom of the pot.
Instant Pot Vegan Paella Recipe
You may also like:
Air Fryer Mussels with Cheese Recipe
Slow Cooker Vegetable and Chickpea Stew Recipe
Instant Pot Vegan Meatballs in Marinara Sauce
Slow Cooker White Beans with Tomato Sauce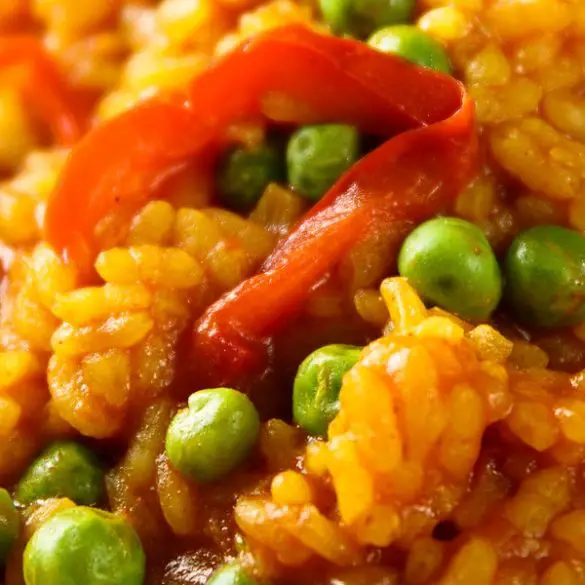 Ingredients
1/2 cup diced red onion

1 cup uncooked brown rice

3 cloves garlic, peeled and minced

2 teaspoons smoked paprika

1 teaspoon ground turmeric

3/4 teaspoon salt

1/2 teaspoon freshly ground black pepper

1/8 teaspoon cayenne pepper

14½ oz (435 ml) diced tomatoes

1 cup (250 ml) low-sodium vegetable broth

1 red bell pepper, cored and sliced

1 cup frozen peas

1/4 cup chopped fresh parsley

1 tablespoon vegan Worcestershire sauce
Instructions
Saute the onion in an electric instant pot turned to saute mode, adding a splash of water when it starts to stick.
Cancel the saute mode, then add the rice, garlic, paprika, turmeric, salt, black pepper, and cayenne pepper. Stir well.
Add canned tomatoes and mix again. Pour in the broth and stir well to combine.
Close the pot and lock the lid. Set the machine to cook at high pressure. Set the timer to cook for 23 minutes.
Using the natural Release, bring pressure to normal. Carefully unlock and open the lid.
Add red bell pepper. Close the cooker and lock the lid again. Set the machine to cook at high pressure. Set the timer to cook for 1 minute.
Using the Quick Release method, bring pressure to normal. Unlock and open the lid.
Stir in the peas, Worcestershire sauce, and parsley. Serve hot.