Slow cooker vegetable and chickpea stew recipe. This hearty and healthy stew is perfect for the colder months. It's loaded with vegetables and is a tasty way to get some of your veggies in. It can be made ahead of time and stored in the fridge until you're ready to eat it. All you need to do is prepare the vegetables, put them in a pot with broth, water, and spices, then cook them for about 4 hours.
What are the benefits of this dish?
Some benefits of this dish are that it provides a lot of nutrients and vitamins, it is easy to make, it tastes great, and it's very affordable.
The benefits of this dish are that it provides a lot of nutrients and vitamins, is easy to make, tastes great, and is very affordable.
What are some spices that can be added to this stew?
This is a text-based game that will teach you how to write better introductions for your essays.
You can't just throw any spice in the stew and expect it to taste good. You need to find the right spices that will work well together but also complement your desired flavor profile. I recommend you use cayenne pepper and curry powder.
Slow Cooker Vegetable and Chickpea Stew Recipe
You may also like:
Instant Pot Vegan Meatballs in Marinara Sauce
Slow Cooker White Beans with Tomato Sauce
Rich and Tasty Chinese Fried Rice in a Slow Cooker
Instant Pot General Tso's Tofu Recipe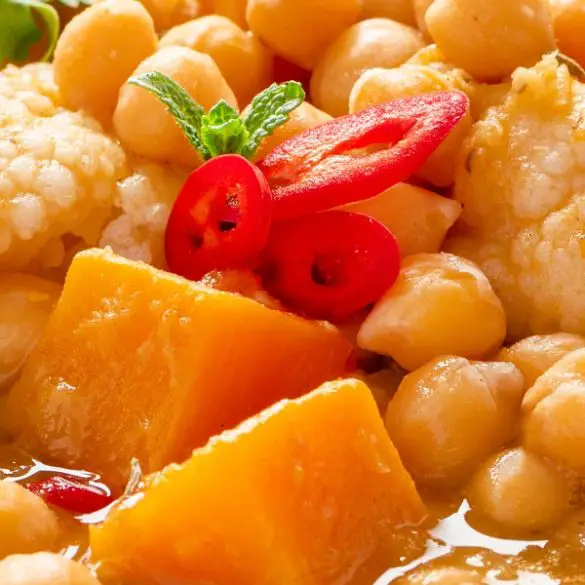 Ingredients
1 tablespoon olive oil

1 large yellow onion, peeled and diced

1 tablespoon kosher salt, divided

2 medium potatoes, peeled and cubed

1 cup cubed butternut squash

1 tablespoon curry powder

1 tablespoon grated ginger

3 cloves garlic, peeled and minced

1/3 teaspoon cayenne pepper

2 cups (500 ml) low-sodium vegetable broth, divided

2 15 oz ((450 ml) each) cans chickpeas, drained and rinsed

1 medium head cauliflower, cut into florets

1/4 teaspoon freshly ground black pepper

1 cup (250 ml) coconut milk
Instructions
In a large nonstick skillet, heat the olive oil over medium-high heat.
Add the onion, season with 1 teaspoon salt, and cook, stirring occasionally, until translucent, for about 5 minutes.
Add potatoes, sprinkle with remaining salt and saute until translucent around the edges.
Stir in the curry powder, ginger, garlic, and cayenne pepper. Cook, stirring, until fragrant, for a further 30 seconds.
Pour in 1/4 cup (60 ml) vegetable broth and scrape up any browned bits from the bottom of the skillet. Transfer the mixture to a 6-quart (6 L) slow cooker.
Add the remaining broth, butternut squash, chickpeas. Stir well to combine.
Cover the pot and cook in a high-heat setting for 4 hours.
Open the lid and stir in the coconut milk. Season with salt and black pepper, to taste.
Serve hot.