Instant pot vegan meatballs in marinara sauce. These vegan meatballs are made from a mixture of seeds, and vegetables with a creamy texture that is reminiscent of ground beef.
What are instant pot vegan meatballs?
Instant pot vegan meatballs are an easy and scrumptious recipe that can be made in a matter of minutes. They are also low-calorie and high in protein and fiber, making them a filling and healthy entree option.
You will need:
-cooked quinoa (quick-cooking)
-black beans
-garlic
-shallot
-oregano
-basil
-Salt to taste
-red pepper flakes
-fennel seeds
How to store vegan meatballs?
There are a few methods that can be used to store vegan meatballs. In order to maintain the delicate texture of the vegan meatballs, it is important to make sure that they are not exposed to the air for too long.
The first method is to freeze them. This can be done by placing them on a parchment paper-lined baking sheet and then freezing them for about an hour or until they are solid. Once they have been frozen, you can store them in a freezer bag or container until you need them for a meal.
The second method is to simply refrigerate your vegan meatballs in an airtight container with some kind of liquid – such as vegetable broth or marinara sauce – so that they stay moist and don't dry out
Instant Pot Vegan Meatballs in Marinara Sauce
You may also like:
Slow Cooker White Beans with Tomato Sauce
The Best Air Fryer French Toast Recipe
Rich and Tasty Chinese Fried Rice in a Slow Cooker
Instant Pot General Tso's Tofu Recipe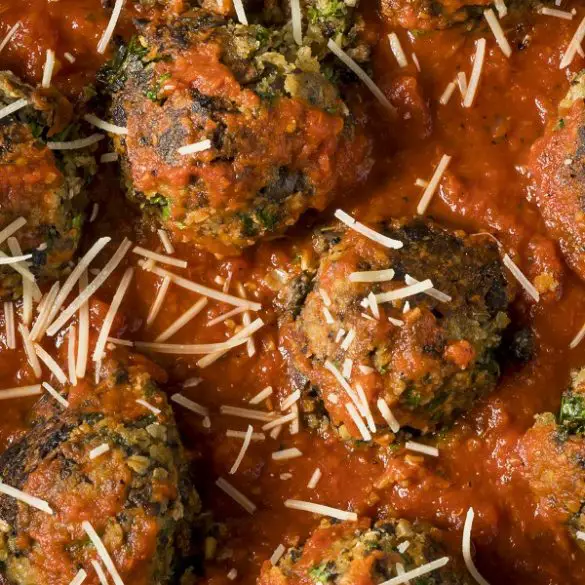 Ingredients
1 package of frozen vegan meatballs

1½​ cups (375 ml) marinara sauce

1/2 cup water

1/2 teaspoon red chili flakes
Instructions
In an electric instant pot, combine frozen vegan meatballs, water, and marinara sauce.
Stir well to combine.
Close the pot and lock the lid. Set the machine to cook at high pressure. Set the timer to cook for 5 minutes.
Using the Natural Release method, bring pressure to normal. Carefully unlock and open the lid.
Stir cooked meatballs well before serving. Serve sprinkled with vegan Parmesan cheese.