The best air fryer French toast recipe. Whether you call it "French toast" or "bread pudding," this delicious breakfast is a quick, easy, and healthy way to use up stale bread.
What is the best kind of bread to use for French toast?
The best kind of bread for French toast is a thick slice of white bread. French toast is usually made from thick slices of white or wheat bread, dipped in a batter made from eggs, milk, and vanilla extract.
What are the benefits of using an air fryer to make French toast?
French toast is a breakfast staple that is usually fried in hot oil. These unhealthy oils are replaced with air, which makes them healthier for consumption.
Healthier cooking surface
The air fryer has a cooking surface that is made of metal and glass which allows the food to be cooked with little or no oil. This makes it healthier than traditional frying pans which need lots of oil
Less preparation
Preparing the French toast in an air fryer requires less effort than using a traditional frying pan. You can also prepare other types of food by using an air fryer
Longer cook time
Cooking time is longer with an air fryer, but it cooks without any added fat. Cooking times are usually 5-7 minutes for French toast.
The Best Air Fryer French Toast Recipe
You may also like:
Instant Pot Blueberry Cake Recipe
Air Fryer Boston Brown Bread Recipe
Air Fryer Spanish Spicy Potatoes Recipe
Air Fryer Pumpkin Sourdough Bread Recipe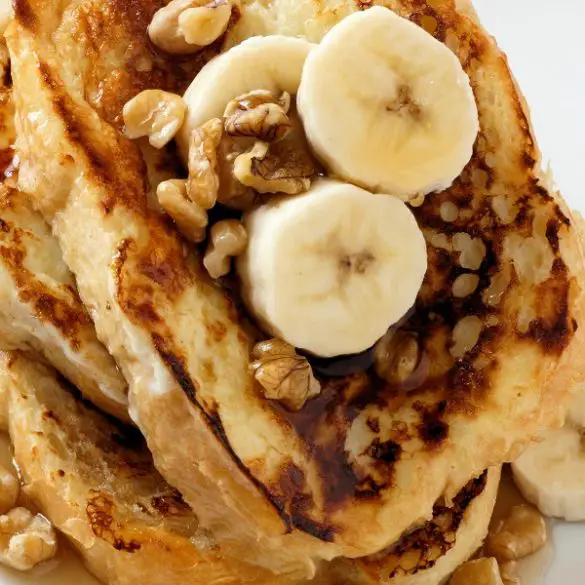 Ingredients
4 thick slices of white bread

2 eggs, beaten

2/3 cup (160 ml) milk

1 teaspoon vanilla

1/2 teaspoon cinnamon

1 ripe banana, sliced, to serve

1/3 cup chopped walnuts, to serve

maple syrup, to serve
Instructions
In a small mixing bowl, combine eggs, milk, cinnamon, and vanilla. Whisk well.
Dip each bread slice into the egg mixture, then shake the excess off.
transfer to the air fryer basket. Fry at 320º F (160º C) for 6 minutes, flipping halfway through.
Remove fried French toasts from the fryer and transfer them to a serving plate.
Serve with banana chunks, walnuts, and maple syrup.
Enjoy your breakfast!