Air fryer Boston brown bread recipe. A step-by-step recipe for the best air fryer Boston brown bread. This is a classic, and delicious bread that's perfect for breakfast or dinner!
What are some of the benefits of using an Air Fryer?
Let's face it, the kitchen is often a crowded, smelly, and noisy place. An air fryer can help you make the space more enjoyable.
Air fryers are already popular in gourmet restaurants because they do not require oil or grease. A stainless steel basket is placed on top of the machine to evenly cook foods by circulating hot air around them. The lack of oil allows for healthier eating options, and with less energy used, your food will be healthier and better for you overall.
You can also enjoy other benefits such as using less time in the kitchen when preparing meals, making food in a fraction of the time it would take with traditional cooking methods, and enjoying crispy foods without exposing yourself to that much fat or calories.
What are the different types of brown bread?
Brown bread is traditional Irish bread. It is the type of bread that has a moist crumb and can be cut into squares. It can also be made with oatmeal or rice flour.
The different types of brown bread are:
– Brown Bread
– Oatmeal Brown Bread
– Rice Brown Bread
Air Fryer Boston Brown Bread Recipe
You may also like:
Rich and Tasty Chinese Fried Rice in a Slow Cooker
Air Fryer Spanish Spicy Potatoes Recipe
Instant Pot General Tso's Tofu Recipe
Air Fryer Pumpkin Sourdough Bread Recipe
Slow Cooker No Yeast Bread Recipe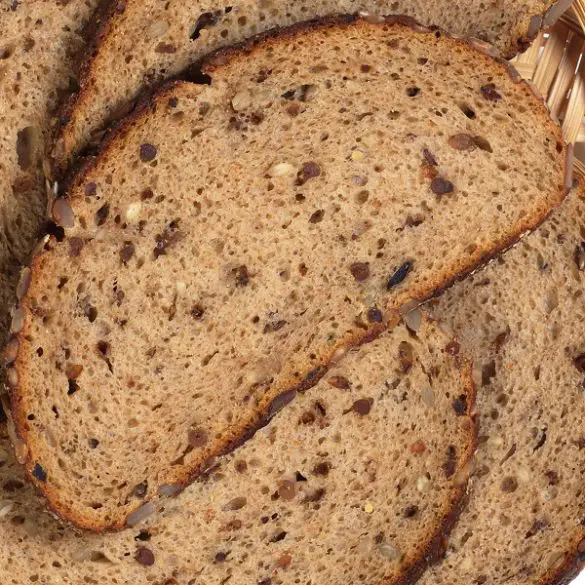 Ingredients
1½ cups whole wheat flour

1/2 cup cornmeal

3/4 teaspoon baking soda

3/4 teaspoon salt

1 cup (250 ml) buttermilk

1/3 cup (80 ml) molasses

1/2 cup mixed raisins and walnuts
Instructions
In a large mixing bowl, combine the flour, cornmeal, baking soda, and salt. Mix well, then slowly pour in the buttermilk and molasses. Mix until dough shapes. Fold in mixed raisings and walnuts. Transfer the dough to a floured surface. Knead for a few minutes. Grease the sides of the air fryer with nonstick cooking spray. Line the air fryer basket with parchment paper. Bake at 350º F (175ºC) for 25 minutes, or until a toothpick inserted into the center of the bread comes out clean. Remove baked brown bread from the fryer and transfer it to the wire rack. Allow it to cool for at least 15 minutes before slicing.