Air fryer Italian focaccia bread recipe. The best way to cook Italian focaccia bread is with an air fryer. Air fryers are a healthy and convenient way of cooking. The heat circulates evenly around the food without using too much oil, which makes it healthier than cooking in a frying pan. Plus, it can be used for many types of foods such as fries, steak, chicken and more.
The Health Benefits of Air-Frying Your Focaccia Bread
The health benefits of air-frying your focaccia bread are many. Air-frying is a healthier cooking method than deep-frying because it does not use any oils for frying. This means that the food will be lower in calories and fat. Air-fried foods are also crispier, which makes them more enjoyable to eat.
Air-fried focaccia bread has many health benefits that make it an excellent option for people who want to enjoy their favorite food without the guilt of eating something unhealthy.
The Best Bread You Can Cook in Your Air Fryer
Air fryers are a recent invention, which is why it can be difficult to find recipes for bread. But don't worry, we have you covered.
Here are the best breads to cook in your air fryer:
-Focaccia Bread Recipe –Pizza Dough Recipe –Buttermilk Biscuit Recipe
Air Fryer Italian Focaccia Bread Recipe
You may also like:
Air Fryer Butternut Squash Soup Recipe
Air Fryer Peanut Butter Cookies Recipe
Air Fryer Chestnuts: Delicious and Easy Holiday Treat
Instant Pot Vegan Paella Recipe
Slow Cooker Vegetable and Chickpea Stew Recipe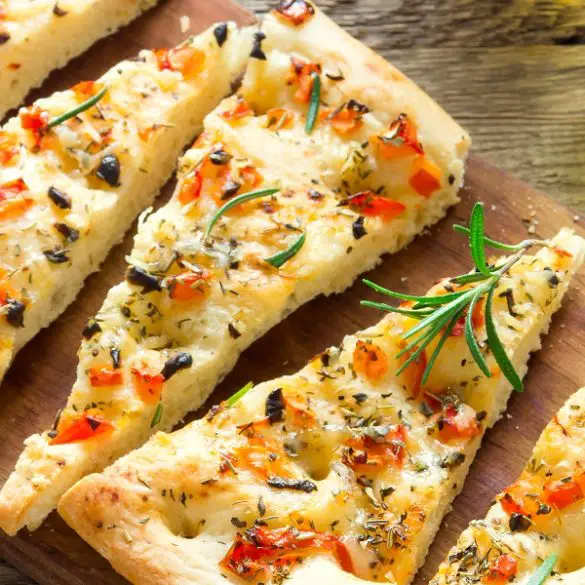 Ingredients
1 pound (480 g) of prepared pizza dough

3-4 tablespoons olive oil

2 teaspoons minced garlic

1 teaspoon dried rosemary

1/2 cup diced cherry tomatoes

chopped black olives

1 teaspoon dried thyme

1 teaspoon dried basil

1 teaspoon Italian seasoning
Instructions
Spray the air fryer basket with olive oil spray.
Spread the pizza dough out and punch it down with your fingertips. Set aside and allow it to rise for about 30 minutes.
Drizzle raised dough with olive oil, then sprinkle with spices, and scatter minced garlic on top.
Fry at 350º F (175º C0 for 10-15 minutes.
Remove fried bread from the fryer and transfer it to a serving plate. Sprinkle with chopped olives, tomatoes, more spices, and olive oil.