Air fryer peanut butter cookies recipe. These Peanut Butter Cookies are a lighter and healthier alternative to traditional peanut butter cookies.
What is the texture of these cookies?
These cookies are crispy on the outside, but chewy on the inside.
What is the best way to store fried cookies?
The best way to store your fried cookies is to place them in an airtight container. This will keep them crisp and fresh for a long time.
The best way to store your fried cookies is to put them in a sealed container.
What are the benefits of using an air fryer?
Air fryers are a relatively new addition to the kitchen. As such, they haven't been around for too long and people don't know about all of their benefits yet. We can look at them as an alternative to deep-frying food. The main benefit is that you get all of the flavor and taste without any of the health issues associated with deep-frying food.
Why should I use an air fryer to make peanut butter cookies?
Air fryers are great because they don't rely on oil to cook, so there's no need to worry about the cookies getting too greasy.
Air fryers are an amazing way to make oven baked cookies without the hassle of using oil so that there is no risk of getting them too greasy. Air fryers cook food by circulating hot air, which means that it will cut your cooking time by far and you won't have to worry about having to constantly check on your cookies or other baked goods. There's also no risk of burning them, as air fryers use a lower temperature than an oven – which means that your food will not be overcooked.
Air Fryer Peanut Butter Cookies Recipe
You may also like:
Air Fryer Chocolate Cupcakes Recipe
Air Fryer Chestnuts: Delicious and Easy Holiday Treat
Instant Pot Vegan Paella Recipe
Air Fryer Mussels with Cheese Recipe
Slow Cooker Vegetable and Chickpea Stew Recipe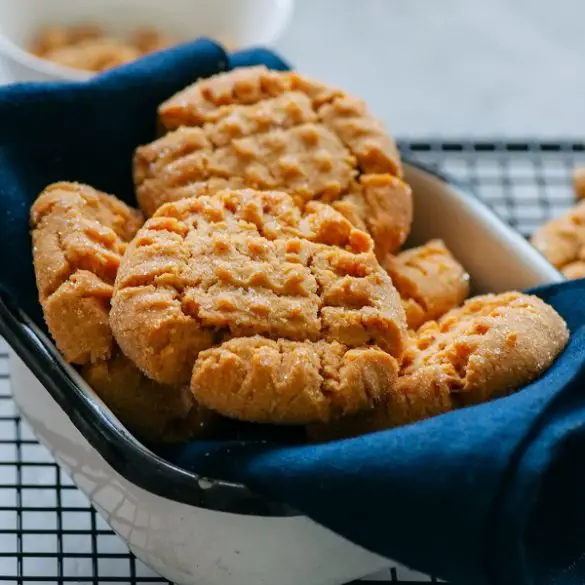 Ingredients
1 cups all-purpose flour

3/4 teaspoon baking soda

1/2 teaspoon salt

1/2 cup unsalted butter, softened

1/2 cup (125 ml) peanut butter

1/2 cup brown sugar

1/2 cup granulated sugar

1 large egg, beaten

2 tablespoons milk
Instructions
In a medium mixing bowl, combine all-purpose flour and baking soda.
Mix well and set aside.
In a separate bowl, combine softened butter and peanut butter. Using an electric mixer, beat well.
Gradually add sugar and mix until well combined.
Stir in beaten egg, then pour in the milk. Beat until well combined.
Gradually add the dry mixture in small increments. Stir until combined (do not overmix!)
Roll a tablespoon (15 g) of cookie dough into a ball, then, using a fork, flatten the cookies.
Transfer cookies to the air fryer basket. Fry at 350 F (175 C) for 6-7 minutes.
Remove baked cookies from the fryer and transfer them to a cooling rack. Allow them to cool.
Serve and enjoy!