Air fryer chocolate cupcakes recipe. Cook up a batch of these yummy, moist chocolate cupcakes in about 10 minutes. The taste and texture are hard to tell from traditional oven-baked cupcakes.
What are the benefits of using an air fryer to make these cupcakes?
Air fryers are typically used for frying food. They cook food by circulating hot air.
There are many benefits of using an air fryer to make these cupcakes. It cooks the cupcakes evenly and quickly. Air fryers also allow you to turn off the heat if you need to wait for something before you can take your cupcakes out of the oven.
Is it easy to clean the air fryer after making the cupcakes?
It won't take a lot of time to clean the air fryer. All you need to do is use a damp cloth and wipe off any excess butter from the surface.
It takes only a few minutes to clean an air fryer properly. All you have to do is use a damp cloth to wipe off any excess butter from the surface, and then wait until it cools before you put it back in its box or cabinet.
Why would someone choose to use an air fryer instead of a traditional oven?
A traditional oven does not have the capability to cook food evenly. The food in the back of the oven is cooked for much longer than in front, meaning that it can burn or dry without being adequately cooked.
But an air fryer has a heating element that circulates heat much more evenly. It also cooks food much faster than a regular oven, which saves you time in your busy routine.
Air Fryer Chocolate Cupcakes Recipe
You may also like:
Air Fryer Teriyaki Tempeh Recipe
Air Fryer Chestnuts: Delicious and Easy Holiday Treat
Instant Pot Vegan Paella Recipe
Air Fryer Mussels with Cheese Recipe
Instant Pot Vegan Meatballs in Marinara Sauce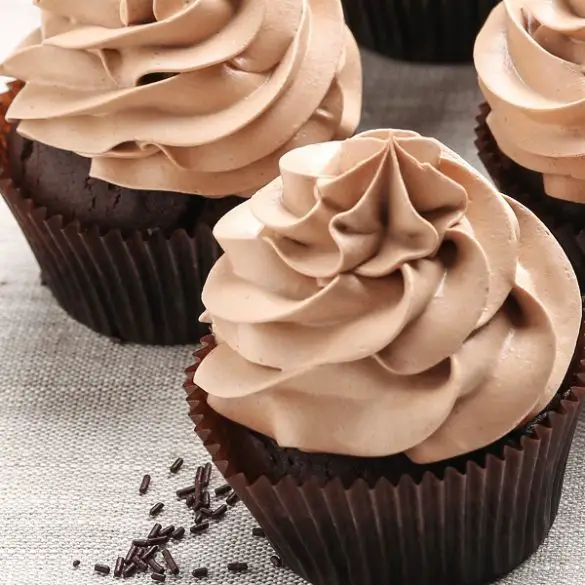 Ingredients
1/2 cup unsweetened cocoa powder

1/2 cup (125 ml) hot water

1 cup granulated sugar

1/4 cup (60 ml) vegetable oil

1/2 cup (125 ml) milk

1 egg, beaten

1 cup all-purpose flour

3/4 teaspoon baking powder

3/4 teaspoon baking soda

1/2 teaspoon salt

To Make Chocolate Buttercream:

8 tablespoons unsalted butter, softened

2 cups powdered sugar

3 tablespoons cocoa powder

pinch of salt

1/4 teaspoon vanilla extract

4 tablespoons cream
Instructions
Preheat your air fryer to 310º F (155º C) for 5 minutes.
Grease 12 silicone cupcake holders with nonstick cooking spray.,or line the holders with paper cupcake liners.
In a mixing bowl, combine hot water and cocoa powder. Whisk until the powder is completely dissolved.
Stir in the sugar, vegetable oil, milk, beaten egg, and vanilla extract. Whisk well.
Add the dry ingredients to the wet mixture and mix well to combine.
Divide the batter into greased (paper-lined) cupcake holders and place them in the preheated air fryer.
Fry at 310º F (155º C) for 10-12 minutes, or until a toothpick inserted in the center of the cupcake comes out clean.
Remove cooked cupcakes from the fryer and allow them to cool completely.
Using an immersion blender, beat the butter on a medium speed until soft and creamy. Stir in the powdered sugar and cocoa powder. Mix until well combined.
Add the salt and vanilla extract and stir well. Gradually pour in the cream until you have the consistency you like.
Spread the buttercream on top of cooled cupcakes.