Air fryer tostones recipe. Take your tostones to the next level with an air fryer. This kitchen appliance crisps up plantains for delicious recipes.
Tostones are a Dominican dish consisting of fried, twice-fried, smashed, and twice-sliced plantains. Tostones can be eaten as snacks, as side dishes, or as appetizers. This post will teach you how to make tostones in an air fryer for all those people that want healthy snacks that are still satisfying.
What are the benefits of air frying?
Air frying, also known as "dry" frying, is a cooking technique that uses hot air to fry food.
Air frying is a healthier way to cook since it does not require adding any oils or fats and it can be used with any type of food. It also produces less smoke and smells than the traditional deep fryer, which makes it perfect for people who want to avoid these problems.
What is the difference between a traditional oven and an air fryer?
Traditional ovens use heat to cook food, while air fryers use hot air.
Air fryers are a newer form of cooking and can cook food with less oil than traditional ovens.
Traditional ovens require more attention and monitoring than an air fryer does.
An air fryer has a timer, so you know when your food is done without having to constantly check it.
Air Fryer Tostones Recipe
You may also like:
Air Fryer Butternut Squash Soup Recipe
Air Fryer Peanut Butter Cookies Recipe
Air Fryer Teriyaki Tempeh Recipe
Air Fryer Chestnuts: Delicious and Easy Holiday Treat
Slow Cooker Vegetable and Chickpea Stew Recipe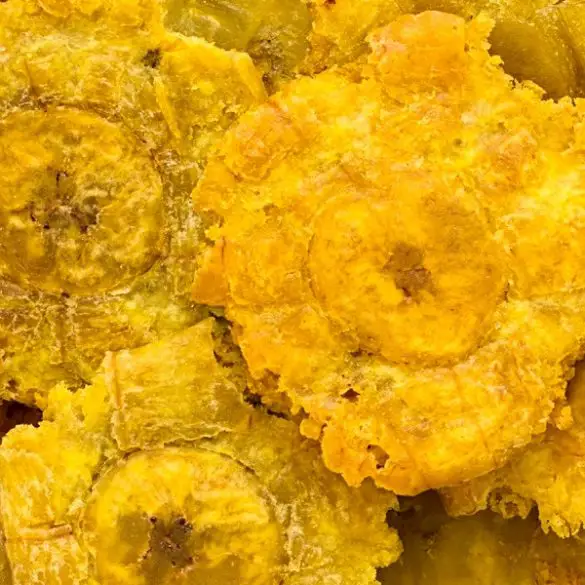 Ingredients
2 green plantains, peeled and chunked

olive oil cooking spray

3 cups (750 ml) water

salt, to taste
Instructions
Preheat your air fryer to 400º F (200º C) for 5 minutes.
Place chunked plantain in the air fryer basket. Spray them with olive oil spray.
Fry for 5 minutes.
Meanwhile, prepare a bowl of salted water.
Using tongs, remove fried plantains from the fryer and transfer them to a cutting board.
Using a plantain smasher, smash plantains to about 1/2 inch (1.25 cm) thickness.
Soak the smashed plantains in salted water for 1-2 minutes, then remove them from the water and pat dry with paper towels.
Working in batches, return tostones to the air fryer. Spray the top with oil spray, then season with salt.
Fry for a further 10 minutes or until golden brown, flipping and spraying halfway through.