Slow cooker gingered carrot puree recipe. This famous French vegetable puree can easily be made in a slow cooker! You may also like Classic Zucchini Soup cooked in the slow cooker, another delicious vegetarian recipe!
Are you looking for more easy and delicious slow cooker recipes? We have a huge collection of them, please check it out-Slow Cooker Recipes
Slow Cooker Gingered Carrot Purée Recipe
Variations: Cauliflower-Fennel Purée– Make gingered carrot purée substituting cauliflower for the carrots, omitting the ground nutmeg, and adding 1 teaspoon crushed caraway seeds.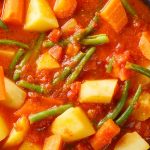 Ingredients
2 pounds (0.91 kg) carrots, peeled and sliced

2 cups (500 ml) peeled and cubed Idaho potatoes

1 cup (250 ml) water

1 cup (250 ml) green beans

2 tablespoons unsalted butter

1/2 cup (125 ml) soy milk, warm

1/2 teaspoon ground ginger

salt and freshly ground black pepper, to taste
Instructions
In 6-quart (6 L) slow cooker, combine carrots, beans, potato, and water. Stir well.
Cover the pot and cook on high-heat setting for 3 hours or until vegetables are tender.
Open the lid. Using a colander, drain cooked vegetables well, then return to the cooker. Continue cooking, uncovered, on high-heat setting, for a further 30 minutes, stirring occasionally.
Stir in butter and enough soy milk to make a creamy consistency. Stir in ground ginger. Season with salt and black pepper.
Ladle into soup bowls. Serve hot.