Classic Hungarian goulash soup recipe. Hearty beef and vegetable soup. Goulash soup is very popular in Eastern Europe. You may also like Tuscan Bread Soup cooked in a slow cooker. Use boneless beef chuck and fresh vegetables to prepare this soup.
Are you looking for more hearty, easy, and tasty soups? We have a huge collection of them, please check it out-Soup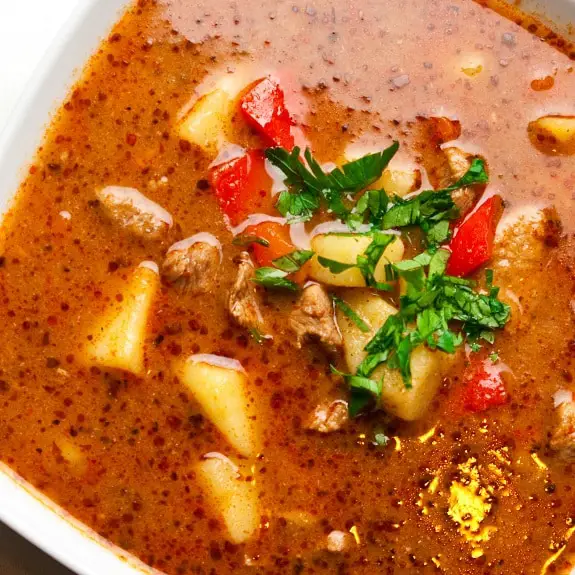 Ingredients
5 slices bacon, finely chopped

3 pounds (1.44 kg) boneless beef chuck, trimmed and cubed

2 tablespoons (30 ml) vegetable oil

4 medium yellow onions, peeled and finely chopped

3 garlic cloves, peeled and minced

3 tablespoons (45 ml) Hungarian sweet paprika

1 teaspoons caraway seeds

1/3 cup (80 ml) all-purpose flour

1/4 cup (60 ml) red wine vinegar

1/4 cup (60 ml) tomato paste

5 cups (1.25 L) beef broth

5 cups (1.25 L) water

1/2 teaspoon salt

2 red bell peppers, cored and chopped

4 large Russet potatoes, peeled and cubed
Instructions
In an 8-quart (8 L) heavy pan, cook chopped bacon until crisp over medium heat, stirring occasionally. Using a slotted spoon, remove cooked bacon from the pan, reserving the fat, and transfer to a large bowl.
Increase the heat to high. Working in batches, brown cubed beef in the reserved fat. Remove browned meat from the pan and transfer to the same bowl.
Reduce heat to medium and add vegetable oil. Add onions and minced garlic to the hot oil and cook, stirring occasionally, until golden.
Stir in sweet paprika, caraway seeds, and all-purpose flour. Cook, stirring, for a further 2 minutes. Whisk in the vinegar and tomato paste. Cook, whisking, for an additional 1 minute.
Stir in beef broth, water, salt, red bell peppers, bacon, and beef. Bring to a boil, stirring constantly.
Reduce heat to low and simmer, covered, for 45 minutes. Stir in cubed potatoes and continue cooking, stirring occasionally, until meat and vegetables are tender, for about 30 minutes.
Season soup with salt and black pepper, to taste. Ladle into soup bowls. Serve hot.