Italian seafood pasta Pescatore recipe. Cooked Italian spaghetti with seafood and vegetables. The best pasta I ever ate! You may also like Broiled Garlic Shrimp with White Beans
To make this recipe, I used uncooked Italian pasta, raw shrimp, squids, mussels, clams, and calamari.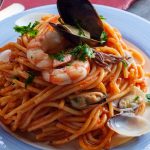 Ingredients
1/4 cup (60 ml) olive oil

1 dozen shrimp, peeled and deveined

1 pound (480 g) squid, sliced

1 dozen clams, cleaned and soaked in the water

1 dozen mussels, cleaned and soaked

1 cup (250 ml) diced tomatoes

1/2 cup (125 ml) dry white wine

1 pound (480 g) fresh calamari, chopped

8 oz (240 ml) can tomato paste

1 teaspoon crushed red pepper

1 cup (250 ml) reserved pasta water

2 tablespoons freshly squeezed lemon juice

1 pound Italian spaghetti, cooked, drained, and 1 cup of cooking liquid reserved

julienned basil leaves
Instructions
In a large bowl, toss cooked spaghetti with lemon juice. Set aside.
In a large saucepan, heat the olive oil over high heat.  Add shrimp and cook flipping once, for 2 minutes per side. Remove cooked shrimp from the pan and transfer to a large plate.
Add diced tomatoes and dry white wine to the pan and cook until liquid reduced by half, for about 2-3 minutes. Stir in tomato paste, crushed red pepper, and reserved pasta liquid. Cook, stirring occasionally, for a further 2-3 minutes.
In a large pan, bring 2 inches (5 cm) of water to a boil. Add clams, squid, mussels, and calamari to boiled water.
Cover and steam for 4-5 minutes or until mussels are opened.  Using a slotted spoon, remove cooked seafood from the water and transfer to the pan. Discard any unopened mussels and clams.
Add cooked shrimp to the pan and simmer, uncovered, for 2-3 minutes. Stir in cooked spaghetti and julienned basil.
Toss well to combine.  Remove cooked seafood pasta from the pan and transfer to serving plates.
Serve hot.