Instant pot healthy keto marinara sauce recipe. Learn how to cook best and healthy Italian sauce in an electric instant pot.
You may also like Instant Pot Keto Beef Stroganoff or Instant Pot Keto Cauliflower
Instant Pot Healthy Keto Marinara Sauce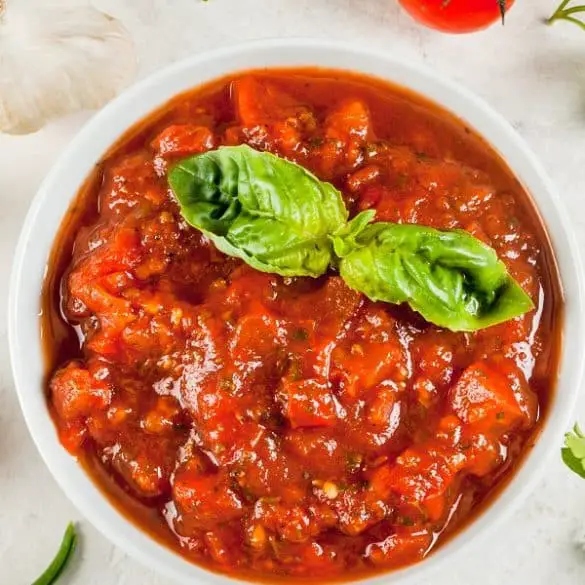 Ingredients
1/4 cup (60 ml) unsalted butter

1/4 cup (60 ml) extra-virgin olive oil

1/2 cup diced yellow onion

2 teaspoons minced garlic

2 28 oz (840 ml) each) cans whole peeled tomatoes

1 tablespoon Italian seasoning

2 teaspoons sea salt

1 teaspoon freshly ground black pepper

1/2 teaspoon crushed red pepper flakes
Instructions
Heat the butter and olive oil in an electric instant pot turned to the sauté mode.
Add diced yellow onion and cook, stirring occasionally, for 4 minutes. Stir in garlic and continue cooking for a further 1 minute.
Stir in tomatoes, Italian seasoning, salt, black pepper, and red pepper flakes.
Close the pot and lock the lid. Set the machine to cook at high pressure. Set the timer to cook for 10 minutes.
Using the Quick Release method, bring pressure to normal. Carefully unlock and open the lid.
Stir the sauce well before serving.