Slow cooker split pea soup. This is a classic and hearty soup that is perfect for cold winter days. This recipe uses dried peas, which can be soaked overnight in water to make them softer and easier to cook.
Split Pea Soup and its Health Benefits
Split Pea Soup is a hearty and healthy soup that is perfect for cold winter days.
Split pea soup is a traditional dish that has been around for centuries. It was originally made with ham, but nowadays it can be made with any type of meat or just vegetables. It's also fast to make and inexpensive, which makes it a great dish to cook on busy weekdays.
When cooking split pea soup, it's important to use high-quality ingredients. The more flavorful the ingredients, the better the taste of the soup will be.
Difference between Split Peas and Dried Pinto Beans
When it comes to cooking dried beans, there are two types – dried pinto beans and dried peas. Pinto beans are larger in size than peas and they have a more earthy flavor. The main difference between the two is that pinto beans take longer to cook than peas.
Basic Crock Pot Split Pea Soup Recipe
Split pea soup is a hearty, nutritious, and delicious soup. It's also a cheap and easy recipe that can be made in a crock pot. Ingredients: – 1 lb dried green split peas – 1 large onion, sliced- 4 cloves of garlic, minced- 8 cups water- 5 strips of bacon, diced and fried until crispy (optional)- 3 carrots, peeled and chopped into 1/2 inch pieces- 1 stalk of celery, chopped into 1/4 inch pieces – 1 tsp salt
Directions: Rinse the split peas thoroughly After rinsing the split peas combine them in a crock pot with the water and onion slices.
Cook on high for 4 to 5 hours or until the peas start to turn translucent. Add in the bacon, carrots, celery, and salt near the end of cooking time.
Soup Recipes using Dried Pinto Beans
Dried pinto beans are a staple in Mexican cuisine. They are also popular in the Southern United States.
Popular soup recipes using dry pinto beans include:
2) Pinto Bean and Ham Hock Soup
3) Frijoles Borrachos (Drunken Beans)
Slow Cooker Split Pea Soup
You may also like: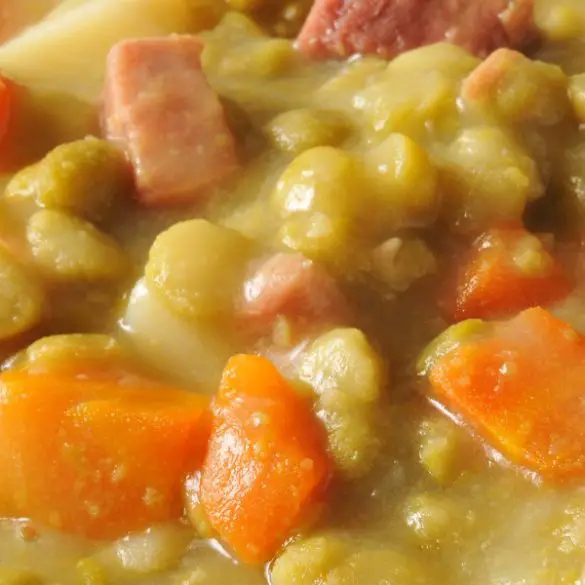 Ingredients
16 oz (480 g) package of dried split peas, rinsed

2 cups diced ham

3 medium carrots, peeled and sliced

1/2 cup chopped yellow onion

2 stalks of celery, chopped

2 cloves garlic, peeled and minced

1 bay leaf

2 teaspoons dried parsley

1/2 teaspoon freshly ground black pepper

1 tablespoon seasoned salt

6 cups (1.5 L) beef broth
Instructions
Layer the ingredients in a 6-quart (6 L) slow cooker in the order given-split pea, ham, carrots, onion, garlic, bay leaf, parsley, black pepper, and salt. Pour in the beef stock. Do not stir.
Cover the pot and cook on a high-heat setting for 4-5 hours (low for 8-10 hours), or until peas are very soft.
Turn off the cooker and open the lid. Discard bay leaf.
Remove the ham from the cooker and set aside.
Using a masher, mash the peas slightly to thicken the soup.
Return the ham to the soup. Serve hot.