Pressure cooker classic hummus recipe. Creamy and savory hummus cooked in an electric pressure cooker. A very delicious, easy, and healthy spread. You may also like Vegetarian Succotash Soup, another healthy dish cooked in a pressure cooker.
Are you looking for more quick and easy pressure cooker recipes? We have a huge collection of them, please check it out-Pressure Cooker Recipes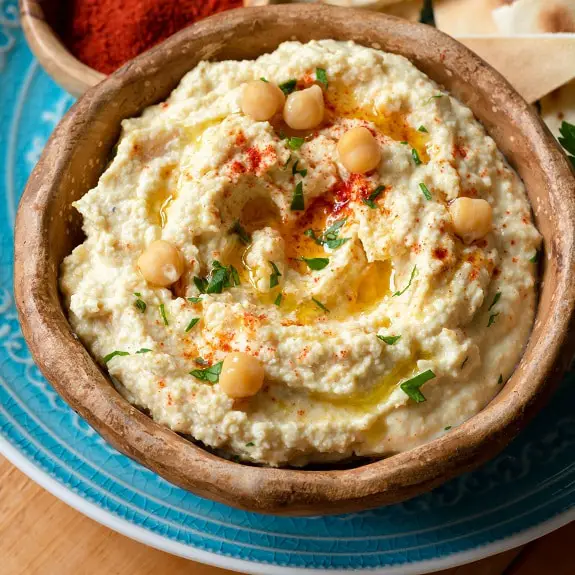 Ingredients
2 cups (500 ml) dried chickpeas, soaked (soak chickpeas in a large bowl for at least 12 hours), and drained

1 teaspoon baking soda

1/4 cup (60 ml) olive oil

1/4 cup (60 ml) tahini

3 oz (90 ml) freshly squeezed lemon juice

2-3 medium garlic cloves, peeled

1/2 teaspoon ground cumin

1/2 teaspoon dried oregano

1/2 teaspoon dried sage

1/2 teaspoon salt

1/2 teaspoon freshly ground black pepper
Instructions
Place soaked and drained chickpeas in a 6-quart (6 L) pressure cooker.
Pour in enough water, so they are submerged by 2 inches (5 cm). Stir in the baking soda.
Close the pressure cooker and lock the lid.
Set the machine to cook at high pressure. Set the timer to cook for 12 minutes.
Using the Quick Release method, bring pressure to normal. Unlock and open the lid.
Drain cooked chickpeas into a colander, then rinse under the cold running water. Rub off and discard the skins.
Place peeled chickpeas into a food processor. Add the remaining ingredients, cover and process until a thick, velvety spread.
Remove hummus from the food processor and transfer to a large bowl. Wrap with plastic wrap and refrigerate for at least 2 hours.