Air fryer crispy green tomatoes recipe. Learn how to fry yummy and crispy green tomatoes in an air fryer.
Air Fryer Crispy Green Tomatoes Recipe
You may like as well:
Slow Cooker African Chicken Sweet Potato Stew
Air Fryer Cheesy Spinach Omelet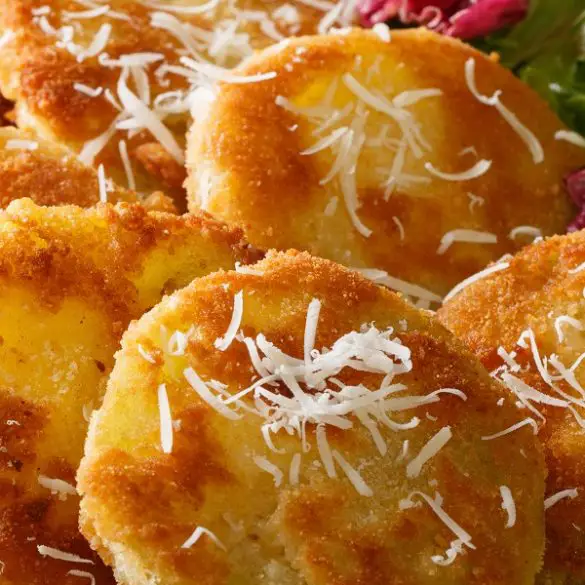 Ingredients
4 medium green tomatoes, rinsed and sliced

1/3 cup all-purpose flour

2 egg whites

1/4 cup (60 ml) almond milk

1 cup ground almonds

1/2 cup panko breadcrumbs

2 teaspoons olive oil

1 teaspoon paprika

1 clove garlic, peeled and minced

shreed Parmesan cheese, for garnish
Instructions
Put all-purpose flour on a plate.
In a shallow bowl, combine egg whites and almond milk. Beat until frothy.
In a separate plate, combine remaining ingredients, except cheese. Mix well.
Dip sliced tomatoes into the flour, then into the egg mixture, then into the almond mixture.
Preheat your air fryer to 400º F (200º C) for 5 minutes.
Place coated tomato slices in the air fryer basket. Air fry at 400º F (200º C) for 6-8 minutes, or until tomatoes are crisp and golden
Remove fried tomatoes from the fryer and transfer to a serving plate.
Sprinkle with shredded Parmesan. Serve hot.