Slow cooker African chicken sweet potato stew recipe. Yummy stew with diced chicken, sweet potatoes and peanuts cooked in a slow cooker.
Slow Cooker African Chicken Sweet Potato Stew
You may like as well:
Slow Cooker Spinach and Artichoke Dip
Pressure Cooker Mushroom Barley Soup
Air Fryer Indian Classic Masala Omelet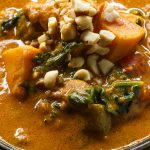 Ingredients
To make Sauce:

1 cup (250 ml) tomato sauce

1/2 cup (125 ml) creamy peanut butter

2 teaspoons smoked paprika

1/2 teaspoon ground coriander

1 teaspoon cayenne pepper

1/2 teaspoon sea salt

1/2 teaspoon freshly ground black pepper

To make Stew:

1 pound (480 g) diced chicken

1 tablespoon cooking oil

2½ cups (625 ml) low-sodium chicken broth

1 cup chopped yellow onion

1 teaspoon minced garlic

1 teaspoon ground ginger

2 small sweet potatoes, peeled and cubed

2/3 cup sliced carrots

2 cups fresh spinach leaves

chopped peanuts, for garnish
Instructions
In a blender, combine all sauce ingredients. Blend until smooth. Set aside.
In a large frying pan, heat 1 tablespoon oil over medium-high heat.
Add diced chicken and cook, stirring occasionally for 5 minutes, or until lightly browned.
Add onion and garlic. Continue cooking and stirring for a further 2 minutes.
Remove chicken and vegetables from the pan and transfer to a 6-quart (6 L) slow cooker.
Add reserved sauce to the pot along with remaining ingredients. Stir well to combine.
Cover the cooker and cook on low-heat setting for 5 hours.
Remove cooked stew from the pot and ladle into soup bowls.
Top with chopped peanuts. Serve hot.