Slow cooker African chicken sweet potato stew recipe. Sweet potato and kale are a pair of vegetables that are perfect for slow cooking. This African chicken stew recipe is hearty and full of flavor.
The Benefits of Trying a New Recipe to Make Dinner on a Weeknight
Crockpot cooking is a popular method for cooking meals. It is easy to use and the result is a meal with minimal effort. It's also great for people who are on the go, as you can throw all of your ingredients into the pot in one place and come back to it later.
In this recipe, we slow cook chicken thighs in a crockpot with sweet potatoes and carrots until they are tender. It makes for an easy weeknight dinner that's perfect for busy families or those who don't have time to cook every night.
What is African Chicken Stew?
African Chicken Stew is a slow cooker recipe that is made with chicken, tomatoes, and spices. It is a popular dish in African cuisine and can be served over rice or couscous.
Slow Cooker African Chicken Sweet Potato Stew
You may like as well:
Slow Cooker Spinach and Artichoke Dip
Pressure Cooker Mushroom Barley Soup
Air Fryer Indian Classic Masala Omelet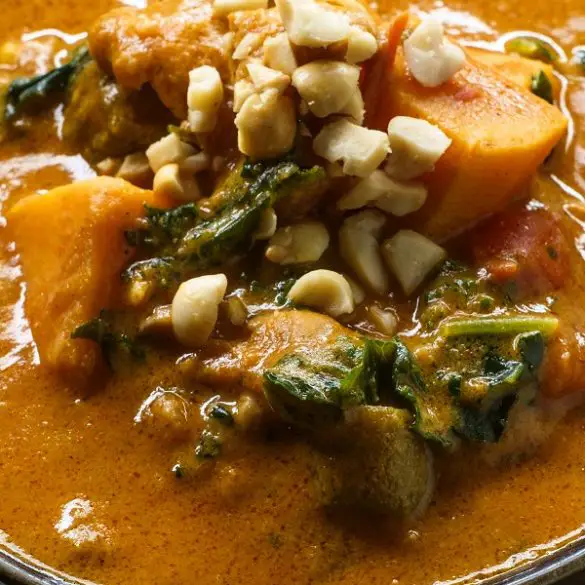 Ingredients
To make Sauce:

1 cup (250 ml) tomato sauce

1/2 cup (125 ml) creamy peanut butter

2 teaspoons smoked paprika

1/2 teaspoon ground coriander

1 teaspoon cayenne pepper

1/2 teaspoon sea salt

1/2 teaspoon freshly ground black pepper

To make Stew:

1 pound (480 g) diced chicken

1 tablespoon cooking oil

2½ cups (625 ml) low-sodium chicken broth

1 cup chopped yellow onion

1 teaspoon minced garlic

1 teaspoon ground ginger

2 small sweet potatoes, peeled and cubed

2/3 cup sliced carrots

2 cups fresh spinach leaves

chopped peanuts, for garnish
Instructions
In a blender, combine all sauce ingredients. Blend until smooth. Set aside.
In a large frying pan, heat 1 tablespoon of oil over medium-high heat.
Add diced chicken and cook, stirring occasionally for 5 minutes, or until lightly browned.
Add onion and garlic. Continue cooking and stirring for a further 2 minutes.
Remove chicken and vegetables from the pan and transfer to a 6-quart (6 L) slow cooker.
Add reserved sauce to the pot along with the remaining ingredients. Stir well to combine.
Cover the cooker and cook on a low-heat setting for 5 hours.
Remove cooked stew from the pot and ladle it into soup bowls.
Top with chopped peanuts. Serve hot.