Pressure cooker mushroom barley soup recipe. Very easy and healthy vegetarian soup cooked in a pressure cooker. You may also like Succotash Soup, another healthy vegetarian soup cooked in an instant pot.
Looking for quick, easy, and tasty pressure cooker recipes? Please check out our huge collection-Pressure Cooker Recipes
Pressure Cooker Mushroom Barley Soup Recipe
If you like mushrooms, this yummy soup will be love at first bite. Vegetable broth is so rich and flavorful.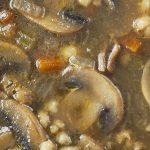 Ingredients
7 dried shiitake mushrooms, sliced

3 cups (750 ml) water

1/4 cup (60 ml) olive oil

1 large white onion, peeled and diced

2 medium shallots, chopped

2 clove garlic, peeled and minced

2 medium carrots, peeled and diced

3 ribs celery, diced

6-8 oz (180-240 g) portabello mushrooms, stems discarded, caps sliced and coarsely chopped

12-16 oz (360-480 g) cremini mushrooms, sliced

4 cups (1 L) vegetable broth

3/4 cup (180 ml) pearl barley, rinsed and drained

2 sprigs fresh thyme

1 bay leaf

sea salt and freshly ground black pepper, to taste

freshly squeezed juice of 1 lemon
Instructions
Place dried shiitake mushrooms in a small saucepan filled with water. Bring to a boil over medium-high heat.
Remove from the heat and allow soaking for 20 minutes. Drain soaked mushrooms through  a coffee filter, reserving  the liquid.
Remove and discard the stems, then finely chop mushrooms. Set aside.
In an 8-quart (8 L) pressure cooker, heat the olive oil over medium-high heat. Add chopped shallot and onion. Cook, stirring often, until the onion is translucent, for about 5 minutes.
Stir minced garlic and continue cooking and stirring for a further 30 seconds. Add carrots, celery, fresh and dried mushrooms, then pour in the vegetable broth and reserved liquid. Stir in the barley, thyme, and bay leaf.
Close the cooker and lock the lid. Set the burner heat to high pressure. When the pot reaches high pressure, reduce the burner heat to low. Set the timer to cook for 20 minutes.
Remove the pressure cooker from the heat. Using the Natural Release method, bring pressure to normal and allow standing for 10 minutes.
Discard the thyme and bay leaf. Taste the soup and season with salt and black pepper, then stir in the lemon juice.
Ladle into soup bowls. Serve hot.