Slow cooker spinach and artichoke dip recipe. Very delicious and healthy vegetarian dip cooked in a slow cooker. You may also like Braised Mushrooms, another yummy vegetarian recipe cooked in a crock pot.
Are you looking for more slow cooker recipes? We have a huge collection of them, please check it out-Slow Cooker Recipes
Slow Cooker Spinach and Artichoke Dip Recipe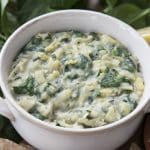 Ingredients
1tablespoon (15 ml) olive oil

1 cup (250 ml) coarsely chopped sweet onion

2 14 oz (420 ml) can artichoke harts, drained and coarsely chopped

10 oz (300 ml) package frozen chopped spinach, thawed, drained, and squeezed dry

2 small red bell pepper, seeded and chopped

1 cup (250 ml) light mayonnaise

8 oz (240 ml) cream cheese, cut up

3 cloves garlic, peeled and minced

1/2 teaspoon dry mustard
Instructions
In a large nonstick skillet, heat olive oil over medium heat. Add chopped onion and cook, stirring occasionally, for about 5 minutes. Remove cooked onion from the skillet and transfer to 4-quart (4 L) slow cooker.
Add the remaining ingredients. Stir well.
Cover the pot and cook on low-heat setting for 3-4 hours or until cheese melts and mixture heated through.