Quick and healthy blueberry sorbet recipe. Super easy and healthy dessert, ready in 5 minutes! You may also like The Best Cranberry Sorbet
Are you looking for quick and easy desserts or other breakfast ideas? We have a huge collection of them, please check it out-Breakfast
Quick and Healthy Blueberry Sorbet Recipe
You can use frozen blueberries as well as fresh. For fresh blueberries, place them in a colander and rinse well under cold running water. Drain well, then pat dry.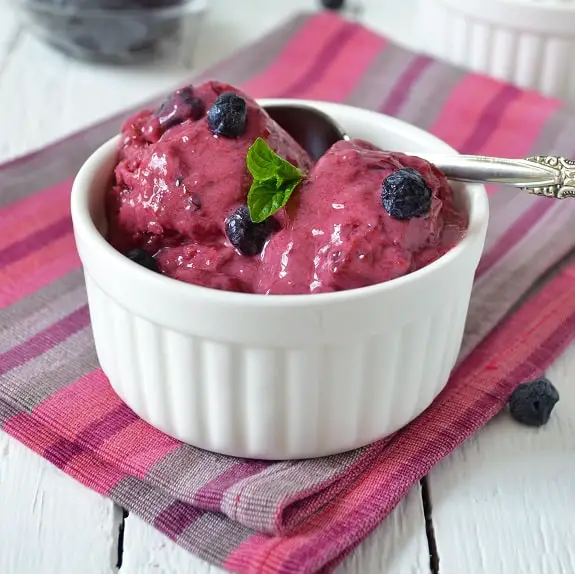 Ingredients
2 cups (500 ml) fresh or frozen blueberries

1/4 cup (60 ml) agave syrup

1/4 cup (60 ml) whipped cream

blueberries

fresh mint leaves
Instructions
Line a baking sheet with parchment paper. Spread fresh blueberries on prepared sheet and freeze until they are solid, for about 5 hours. Skip this step, if using frozen berries.
In a food processor, combine berries, syrup, and whipped cream. Process until smooth.
Remove the berry mixture from the food processor and transfer to an airtight container.  Freeze until firm, for about 3 hours.
Remove frozen sorbet from the freezer and allow standing for 20 minutes at room temperature.
Spoon into bowls. Serve with extra blueberries and fresh mint leaves.