Air fryer poached egg on toast. Get the perfect poached egg on toast every time with the help of the air fryer. Discover the easy steps to make an air fried poached egg on toast today!
Introduction: What is an Air Fryer Poached Egg on Toast?
Poached egg on toast is a delicious and healthy breakfast option that has become increasingly popular in recent years. This dish involves cooking an egg in an air fryer, resulting in a perfectly poached egg with a crispy exterior. The egg is then served on top of a slice of toast, creating a simple yet satisfying meal.
This method of cooking eggs is a great alternative to traditional poaching methods, as it requires less time and effort while still producing a tasty and nutritious breakfast.
YOU MAY ALSO LIKE:
Deliciously Sweet Air Fryer Banana S'mores
Air Fryer Roasted Pears with Blue Cheese
Instant Pot Braised Lamb Knuckle
How to Make an Air Fryer Poached Egg on Toast (Alternative Way)
To make a poached egg on toast, you will need a few basic ingredients: bread, eggs, and mayonnaise. Start by preheating your air fryer to 300°F. While the air fryer is heating up, lightly butter or oil the inside of a silicone egg poaching cup. Place the cup in the air fryer basket.
Next, crack an egg into the poaching cup. Be careful not to break the yolk. Season the egg with salt and pepper to taste. Repeat this process for as many eggs as you want to poach.
Once the air fryer is preheated, place the basket with the poaching cups inside. Cook the eggs for 6-8 minutes, depending on how runny or firm you like your yolks. Keep an eye on them to ensure they don't overcook.
While the eggs are cooking, toast your bread to your desired level of crispiness. Once the eggs are done, carefully remove the poaching cups from the air fryer using tongs or oven mitts. Gently slide the poached eggs out of the cups onto the toast.
And there you have it – a delicious air fryer poached egg on toast!
Tips for Perfecting Your Poached Egg
To ensure that your poached egg turns out perfectly every time, here are some tips to keep in mind. First, make sure to use fresh eggs as they will hold their shape better when poaching. Second, crack each egg into a separate small bowl or ramekin before adding it to the air fryer basket.
This will help prevent the egg from spreading out too much and losing its shape. Third, lightly coat the inside of the ramekin or bowl with cooking spray before cracking the egg to prevent sticking. Fourth, preheat your air fryer before adding the eggs to ensure even cooking.
Finally, keep an eye on the eggs as they cook and adjust the cooking time as needed based on your desired level of doneness. With these tips in mind, you'll be able to master the art of air fryer poached egg on toast in no time!
Serving Suggestions and Variations for This Dish
Once you've mastered the art of making an air fryer poached egg on toast, the possibilities for serving and variations are endless. Here are a few ideas to get you started:
Avocado Toast: Top your toast with mashed avocado, sliced tomatoes, and a sprinkle of salt and pepper before adding your perfectly poached egg.
Bacon and Cheese: Fry up some bacon and sprinkle shredded cheese over your toast before adding your egg for a delicious twist on a classic breakfast sandwich.
Smoked Salmon: Top your toast with a layer of cream cheese and smoked salmon before adding your egg for a fancy brunch option.
Veggie Delight: Sauté some spinach, mushrooms, and onions in a pan before adding them to your toast along with your poached egg for a healthy and flavorful breakfast.
Sweet and Savory: Drizzle your toast with honey or maple syrup and sprinkle with sea salt before adding your egg for a unique and delicious flavor combination.
Remember, the beauty of the poached egg on toast is that it can be customized to your liking. Experiment with different toppings and flavors until you find your perfect combination.
Air Fryer Poached Egg on Toast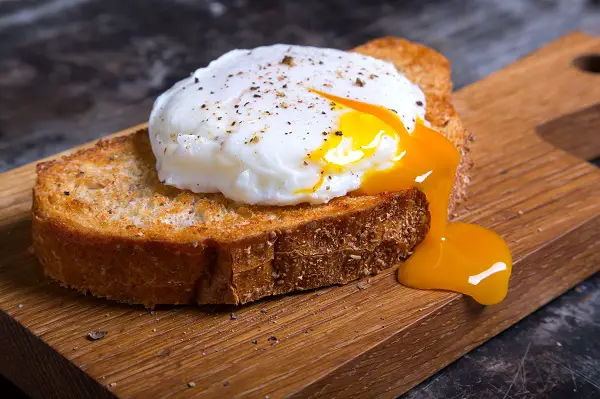 Ingredients
1 slice of bread

1 large egg

mayonnaise

salt and freshly ground black pepper, o taste

paprika (optional)
Instructions
Add some oil to a dish you can put in the air fryer.
Pour hot water into the dish so it covers the egg. Put the egg in the hot water.
Put the dish in the air fryer basket - no need to preheat. Spread mayo on both sides of a piece of bread, then add it to the basket.
Cook at 350°F (175º C) for 8 to 9 minutes. Flip the bread after 5 minutes so it's evenly toasted. When it's done, take it out and put the egg on the toast. Add salt, pepper, or paprika if you like. Enjoy!