Air fryer lentil fritters recipe. Air fryer lentil fritters are a healthier and vegan option that's easy to make and delicious. These crunchy fritters are great as a side dish or a snack.
What is an Air Fryer and What are the Benefits of Using One?
Air fryers are a new way to cook food without using any oil. They use hot air to cook the food instead of oil.
Air fryers are not just a healthier alternative to deep frying, they also allow you to make healthy food quickly and easily. Air fryers have been shown to lower cholesterol levels and reduce the risk of heart disease.
Air Fryer Lentil Fritters Recipe Tutorials For All Types of Tastes
Lentil fritters are a delicious and healthy dish. They are vegan, vegetarian, gluten-free, and low in calories.
Lentils are an excellent source of protein, fiber, iron, and folate. They also contain the amino acid lysine which is important for muscle growth and repair. Lentils are also high in antioxidants which help to protect against heart disease and cancer.
Air fryers use air instead of oil to cook food without adding any extra fat or calories to your meal. This way you can enjoy your favorite foods without feeling guilty about the number of calories you consumed.
Air Fryer Lentil Fritters Recipe
You may also like:
Air Fryer Mexican Street Corn on the Cob
Instant Pot Mexican Pinto Beans Recipe
Instant Pot Buckwheat with Mushrooms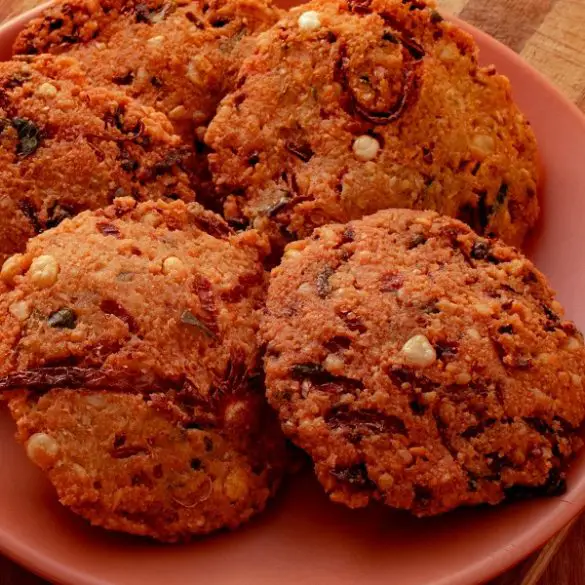 Ingredients
1 cup red split lentils, rinsed and drained

3 medium zucchinis, grated

3 oz (90 g) sweet corn

1 medium yellow onion, peeled

4 garlic cloves, peeled

1½ oz (45 g) buckwheat flour

1/2 teaspoon ground cumin

1/2 teaspoon paprika

1/2 teaspoon freshly ground black pepper

1/2 teaspoon ground pink Himalayan salt

1/2 cup chopped parsley

1/2 cup packed coriander leaves

1/4 teaspoon cayenne pepper

1/4 teaspoon ground turmeric

1 teaspoon dried marjoram

1 teaspoon curry powder
Instructions
Soak the red lentils in water for at least 6 hours. Drain and set them aside.
Place grated zucchinis in a colander and squeeze them with your hands.
In a food processor, combine onion, garlic, coriander, and parsley. Process them to a thick chunky paste. Transfer them to a big bowl.
Place drained lentils in a food processor and process until smooth.
Add lentil paste to the bowl with the onion mixture. Stir in the remaining ingredients, except the flour. Mix well.
Add the flour and mix well again. Form the balls from the lentil mixture, then flatten them.
Line a baking sheet with parchment paper, then place fritters on it. Place the baking sheet in a freezer for 1 hour.
Preheat your air fryer to 300º F (150º C).
Spray the air fryer basket and fritters with coconut oil spray.
Fry for 20 minutes, flipping halfway through.
Serve hot.