Slow cooker braised mushrooms. Button mushrooms with soy sauce, honey, sherry, and butter cooked in a slow cooker. This is a beef broth-based recipe. If you would like to make it vegetarian-friendly, substitute vegetable broth for beef broth. You may also like Mushroom-Barley Soup, another delicious vegetarian recipe cooked in a slow cooker.
Are you looking for more easy and tasty slow cooker recipes? We have a huge collection of them, please check it out-Slow Cooker Recipes
Slow Cooker Braised Mushrooms Recipe
In this recipe, I used homemade soy sauce. Please learn how to prepare it-How to Make Sauce. Also, you can serve this dish over cooked rice. 4-quart (4 L) slow cooker fits well for this meal. Please read the full recipe below.
Benefits of Cooking with Mushrooms in a Slow Cooker
Mushrooms are healthy food that can be cooked in a slow cooker. The health benefits of mushrooms are numerous and include their ability to increase the immune system, improve digestion, and promote cardiovascular health.
Cooking mushrooms in a slow cooker is an easy way to enjoy all of the health benefits that they have to offer. It takes less than 10 minutes to prep and then you can let them cook for hours without worrying about stirring or flipping.
Different Ways to Enjoy Mushrooms in a Slow Cooker
Mushrooms are a great addition to any dish, but they can be difficult to cook. Luckily, there are many easy recipes for cooking mushrooms in a crockpot. that will help. Place half of the chicken broth and a pinch of salt into the bottom of your crockpot. Bring to a boil on high heat before pouring over all of the sliced mushrooms in your slow cooker- about 4 cups worth. Stir in your onion slices and bay leaf before turning off your crockpot after 10 minutes to let it continue to cook.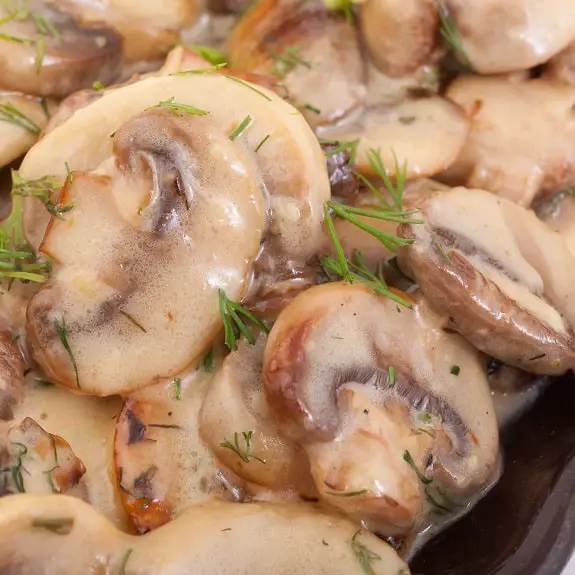 Ingredients
2 pounds (0.91 kg) fresh button mushrooms

1/4 cup (60 ml) soy sauce

1/4 cup (60 ml) low-sodium beef broth (use vegetable broth as the substitute)

1/4 cup (60 ml) honey

2 tablespoons (30 ml) dry sherry

2 tablespoons (30 ml) rice vinegar

3 cloves garlic, peeled and minced

1 teaspoon grated ginger

2 tablespoons (30 ml) unsalted butter

chopped fresh dill, for serving
Instructions
Slice mushrooms and place in a 4-quart (4 L) slow cooker.
In a small mixing bowl, combine soy sauce, broth, honey, sherry, vinegar, garlic, and ginger. Stir well and pour the mixture over the mushrooms.
Cover the pot and cook on a low-heat setting for 8-10 hours.
Turn off the slow cooker and open the lid. Stir in the butter, then stir until the butter is melted.
Transfer cooked mushrooms to a serving plate. Sprinkle with chopped fresh dill. Serve over cooked rice, if desired.