Slow cooker braised mushrooms. Button mushrooms with soy sauce, honey, sherry, and butter cooked in a slow cooker. This is beef broth-based recipe. If you would like to make it vegetarian-friendly, substitute vegetable broth for beef broth. You may also like Mushroom-Barley Soup, another delicious vegetarian recipe cooked in a slow cooker.
Are you looking for more easy and tasty slow cooker recipes? We have a huge collection of them, please check it out-Slow Cooker Recipes
Slow Cooker Braised Mushrooms Recipe
In this recipe I used homemade soy sauce. Please learn how to prepare it-How to Make Sauce. Also, you can serve this dish over cooked rice. 4-quart (4 L) slow cooker fits well for this meal. Please read the full recipe below.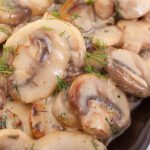 Ingredients
2 pounds (0.91 kg) fresh button mushrooms

1/4 cup (60 ml) soy sauce

1/4 cup (60 ml) low-sodium beef broth (use vegetable broth as the substitute)

1/4 cup (60 ml) honey

2 tablespoons (30 ml) dry sherry

2 tablespoons (30 ml) rice vinegar

3 cloves garlic, peeled and minced

1 teaspoon grated ginger

2 tablespoons (30 ml) unsalted butter

chopped fresh dill, for serving
Instructions
Slice mushrooms and place in a 4-quart (4 L) slow cooker.
In a small mixing bowl, combine soy sauce, broth, honey, sherry, vinegar, garlic, and ginger. Stir well and pour the mixture over mushrooms.
Cover the pot and cook on low-heat setting for 8-10 hours.
Turn off the slow cooker and open the lid. Stir in the butter, then stir until the butter is melted.
Transfer cooked mushrooms to a serving plate. Sprinkle with chopped fresh dill. Serve over cooked rice, if desired.