Pressure cooker cauliflower cheese soup recipe. Learn how to cook easy and healthy cauliflower soup in an electric instant pot.
I used homemade chicken stock to make this yummy soup.
Pressure Cooker Cauliflower Cheese Soup Recipe
You may also like Instant Pot Indian Lamb Korma or Pressure Cooker Mushroom Barley Soup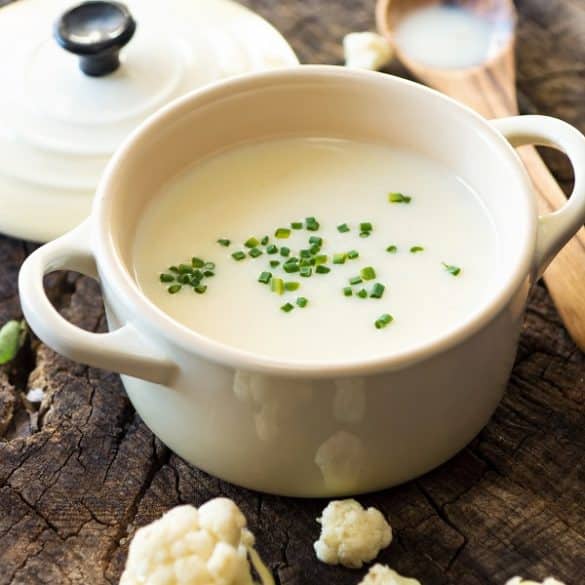 Ingredients
2 yellow onions, peeled and diced

2 tablespoons (30 ml) olive oil

6 cloves garlic, peeled and minced

1 large head cauliflower, cut into florets

3 ribs celery, diced

10 fresh sprigs thyme

6 cups (1½ L) chicken stock

1½ cups (375 ml) milk

1½ teaspoons salt

2 cups shredded cheese

chopped green onions, for garnish
Instructions
Heat the olive oil in an electric instant pot turned to the sauté mode.
Add diced onions and sauté, stirring occasionally, until soft and translucent, for a bout 5 minutes.
Add minced garlic, making space in the middle in the pot. Continue cooking, stirring occasionally, until garlic is fragrant, for a further 1 minute.
Pour 1 cup (250 ml) into the cooker, and using a wooden spatula, scrape the bottom of the instant pot, removing anything that might be sticking.
Pour the remaining stock into the pot, then add cauliflower florets, celery, thyme, and salt. Stir well to combine.
Close the cooker and lock the lid. Set the machine to cook at high pressure. Set the timer to cook for 5 minutes.
Using the Natural Release method, bring pressure to normal. Carefully unlock and open the lid.
Add milk. Using an immersion blender, blend the soup until smooth. Add grated cheese and stir well until cheese is melted.
Ladle the soup into soup bowls. Sprinkle with chopped green onions. Serve hot.