Air fryer banana chips recipe. These air fryer snacks are so tasty! It's no-fuss, low-calorie, and gluten-free.
What are the benefits of making this recipe in an air fryer?
Making chips in an air fryer is healthier than frying them in oil because all the fat and grease are eliminated.
Air fryers use less oil to make food taste crispy, while at the same time removing the excess grease and fat. It's a healthy alternative to other cooking methods like deep frying.
Which ingredients are needed to make chips in an air fryer?
The ingredients needed to make banana chips in an air fryer are yellow bananas and lemon juice.
Bananas are peeled and sliced into strips. These branches are then dipped in a mixture of water, sugar, lemon juice before they are fried in an air fryer.
How long does it take to make them in an air fryer?
The preparation time for chips in an air fryer is about fifteen minutes. They are also one of the fastest snacks to prepare in an air fryer. However, you should not let them cook for longer, or else they will burn.
Air Fryer Banana Chips Recipe
You may also like:
Air Fryer Golden Bananas with Chocolate Sauce Recipe
The Perfect Thanksgiving Pecan Pie Recipe
Air Fryer Blackberry Cobbler Recipe
Air Fryer Bread Pudding Recipe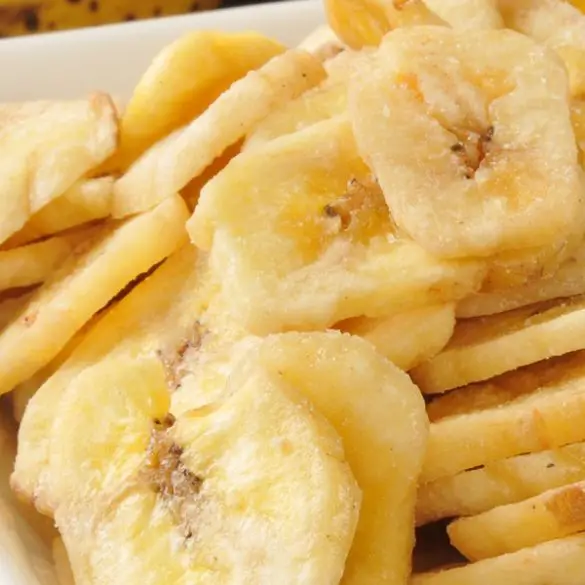 Ingredients
2 bananas, peeled and thinly sliced

1/2 cup (125 ml) freshly squeezed lemon juice
Instructions
In a large bowl, combine sliced bananas and lemon juice. Soak for 5 minutes.
Preheat your air fryer to 360º F (180º C) for 5 minutes.
Spray the air fryer basket with nonstick cooking spray.
Place soaked bananas in a single layer in the air fryer basket.
Fry for 12 minutes (if they are not crisp, fry for a further 2-3 minutes).