Air fryer golden bananas with chocolate sauce is the perfect kitchen dessert delight!
If you're looking for an easy dinner idea, this bold dish will do just the trick. Add the flavors of coconut oil, cinnamon, brown sugar, salt, and vanilla extract to vegan butter for a tasty treat your kids will love!
Tip: Use your favorite toppings – whipping cream or low-fat ice cream are great combinations.
What are the benefits of air frying?
I. Air frying has a better taste and texture
II. Saving energy: Air frying is quicker and doesnt require any oil
III. Saving food: With air fryers, there is less waste of food because it cooks much faster than other cooking methods
IV. It is healthier: Air frying uses about half the amount of oil used in deep frying, so there are fewer calories and less cholesterol in the final product.
What are some healthy snacks to air fry?
Air fryers are becoming popular in the kitchen because they offer fast and healthy snacks that are easy to make.
Some of the snacks you can air fry include-
What is the best tool to use for air frying?
There are two types of air fryers: convection-style and infrared. Convection-style air fryers use a forced-air system to circulate the hot air around the food. Infrared air fryers use infrared radiation to cook food, which means they produce less heat than convection-style air fryers.
The best tool for cooking fried food is an infrared air fryer because it reduces the risks of deep-frying while cooking your favorite foods just as well.
Air Fryer Golden Bananas with Chocolate Sauce Recipe
You may also like:
The Perfect Thanksgiving Pecan Pie Recipe
Air Fryer Blackberry Cobbler Recipe
Air Fryer Bread Pudding Recipe
Air Fryer Roasted Corn on the Cob Recipe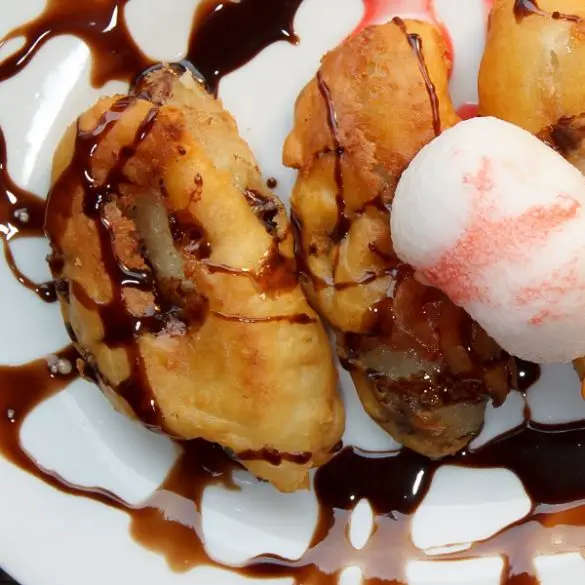 Ingredients
1 large egg. beaten

1/4 cup cornstarch

3 bananas, halved lengthwise

chocolate sauce, for drizzling

ice cream, for garnish
Instructions
Place beaten egg in a small bowl. Put cornstarch in another bowl.
Dip halved bananas in the cornstarch, then in egg.
Grease the air fryer basket with nonstick cooking spray.
Fry at 350 F (175 C) for 5 minutes, then flip bananas and continue fryer for a further 2 minutes.
Turn off the fryer and open the basket.
Remove fried bananas from the basket and transfer them to a serving plate. Drizzle with chocolate sauce. Garnish with ice cream.
Enjoy!