Air fryer bread pudding recipe. Cook easy and delicious dessert in an air fryer.
Air Fryer Bread Pudding Recipe
You may also like:
Instant Pot Scalloped Potatoes Recipe
Air Fryer Roasted Corn on the Cob Recipe
Air Fryer Bruschetta with Tomato and Basil
Air Fryer Breaded Cauliflower Tater Tots
Air Fryer Glazed Donuts Recipe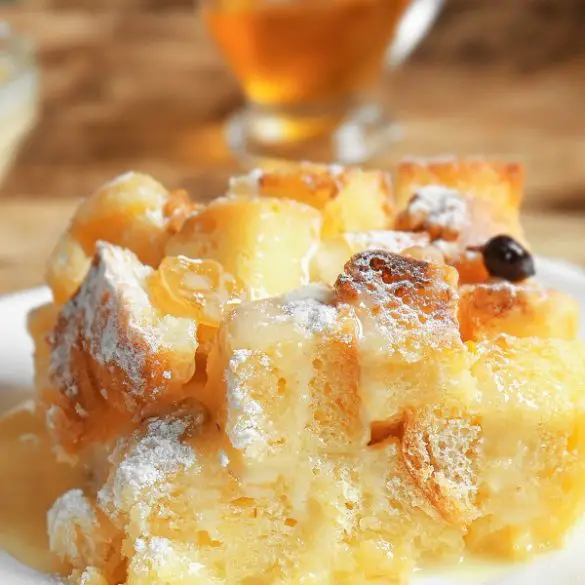 Ingredients
4 cups cubed white bread ( soft Italian or French)

1/3 cup dried raisins

For Egg Mixture:

2 large eggs, beaten

1 cup (250 ml) whole milk

1/4 cup (60 ml) heavy (double) cream

5 tablespoons granulated sugar

2 tablespoons unsalted melted butter

1 teaspoon vanilla extract

1/2 teaspoon ground cinnamon

1/8 teaspoon salt
Instructions
In a large mixing bowl, combine beaten eggs, milk, heavy cream, sugar, vanilla extract, cinnamon, and salt. Mix well.
Stir in hot melted butter.
Spray a 6-inch (15 cm) round cake pan with nonstick cooking spray, then spread half of the bread cubes and sprinkle half of the raisins. Pour half of the egg mixture on top.
Repeat the process with the remaining cubed bread, raisins, and egg mixture.
Preheat your air fryer to 350º F (175º C) for 15 minutes.
Place the baking pan in the air fryer basket. Fry for about 15 minutes, or until golden and knife inserted in the center of the pudding comes out clean.
Remove baked bread pudding from the fryer and transfer to a large plate. Allow to rest for a few minutes, then dust with powdered sugar.
Serve warm.