Instant pot scalloped potatoes recipe. Learn how to cook yummy scalloped potatoes in an instant pot.
Instant Pot Scalloped Potatoes Recipe
You may also like:
Air Fryer Roasted Corn on the Cob Recipe
Air Fryer Bruschetta with Tomato and Basil
Air Fryer Breaded Cauliflower Tater Tots
Air Fryer Scalloped Potatoes Recipe
Air Fryer Jewish Blintzes Recipe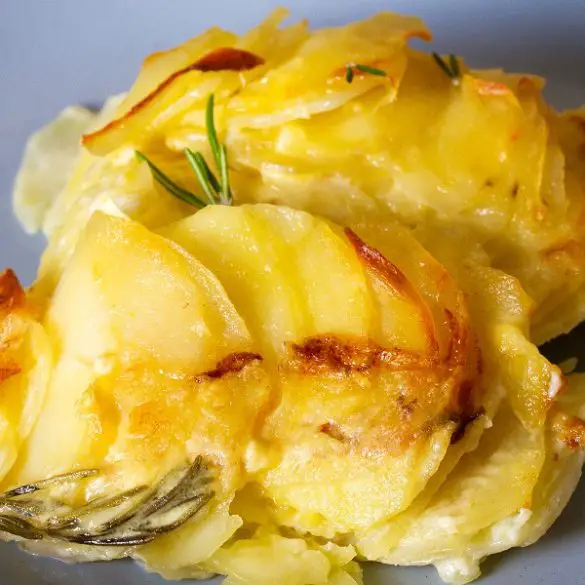 Ingredients
3 pounds (1.4 kg) white potatoes, peeled and sliced into rondelles

1 cup (250 ml) low-sodium chicken broth

1/2 teaspoon salt

1/2 teaspoon freshly ground black pepper

1/2 teaspoon dried oregano

1 teaspoon garlic powder

4 cloves garlic, peeled and minced

1 cup (250 ml) heavy cream

2 cups yellow Cheddar cheese, shredded and divided

rosemary sprig
Instructions
Place sliced potatoes in a 6-quart (6 L) electric instant pot.
Pour in the chicken broth, then add salt, black pepper, oregano, and garlic powder. Stir well to combine.
Close the pot and lock the lid.
Set the machine to cook at high pressure. set the timer to cook for 1 minute.
Using the Natural Release method, bring pressure to normal. Carefully unlock and open the lid.
Gently transfer potatoes from the cooker to a pie baking dish. Set aside.
Switch the instant pot to the saute mode. Add minced garlic to the leftover liquid. Cook, stirring, for 30 seconds.
Stir in heavy cream and slightly simmer. Turn off the pressure cooker, then stir in 1 cup shredded cheese. Mix until fully melted and smooth.
Pour the cheesy sauce over the potatoes. Add rosemary sprig, then sprinkle with remaining shredded cheese.
Preheat the oven to 375º F (190º C).
Bake in preheated oven for 15 minutes, or until the mixture is bubbly, then broil for a few minutes to brown the top.
Serve hot.