Instant pot lobster bisque recipe. This is the best recipe for lobster bisque, made in an instant pot! With just 10 minutes of prep time and a quick (17-minute) cooking time, you'll enjoy this rich and creamy soup any night of the week.
What are the ingredients for the Instant pot lobster bisque recipe?
Instant pots are all the rage these days. They help make cooking easier because they take much less time to cook food, and there is no need to babysit the pot.
The ingredients for this Instant pot recipe include lobster tails, seafood broth, onion, carrots, celery, garlic, tomato paste, dry sherry, and seasoning.
What are the benefits of making the recipe in an Instant Pot?
Instant Pot is a brand of electric pressure cooker that has gained popularity in recent years. The device was introduced in 2009 and it has been the best-selling multi-cooker on Amazon since 2013.
There are many benefits to making a recipe in an Instant Pot, here are just a few:
– Easy cleanup
– It only requires one pot
– Quick-cooking time
– Uses less electricity than other electric cookers.
What are some other recipes that can be made in an instant pot?
The Instant Pot is a multifunctional cooking appliance that can do so much more than just pressure cook.
It was introduced in 2010 and has been a popular choice for kitchens of all sizes since then.
The Instant Pot provides an efficient way to make many dishes that would otherwise take a lot of time and effort. The device is not only limited to pressure cooking, it also functions as a slow cooker, yogurt maker, rice cooker, sauté pan, and warmer.
Instant Pot recipes vary from breakfast to dinner to dessert, but here are some of the most popular dishes:
– Pressure Cooker Pork Carnitas
– Pressure Cooker Chicken Tortilla Soup
– Pressure Cooker Cashew Chicken
– Rice with Zucchini and Tomatoes
Instant Pot Lobster Bisque Recipe
You may also like:
Instant Pot Joumou Soup Recipe
Slow Cooker Creamy Cauliflower Potato Soup
Instant Pot Homemade Curd Cheese Recipe
Instant pot Egyptian Koshari Rice Recipe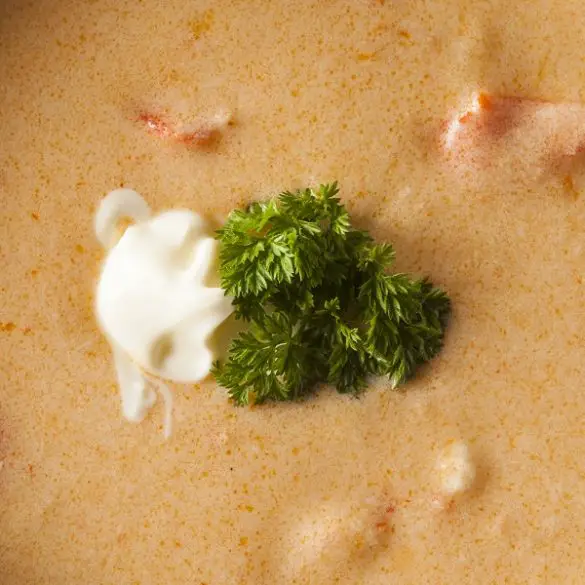 Ingredients
2-4 lobster tails

2-3 cups (500-750 ml) seafood broth

1¾ cups chopped yellow onion

1¾ cups chopped carrots

1½ cups chopped celery

3-4 garlic cloves, peeled and minced

1/4 teaspoon salt

dash of freshly ground black pepper

1/2 cup (125 ml) dry sherry

2 tablespoons tomato paste

2/3 cup (160 ml) coconut milk

dash of cayenne pepper
Instructions
Boil 1 cup (250 ml) of seafood broth in an electric instant pot turned to saute mode.
Once the broth starts to bubble, ad lobster tails. Cook for 3-4 minutes, or until shells have completely turned red and the meat is completely cooked.
Using tongs, remove cooked tails from the cooker and remove meat from shells. transfer lobster meat to a cutting board and chop it. Refrigerate until ready to use.
Using a fine-mesh strainer, strain the remaining seafood broth into a measuring cup, then add more broth until is filled to the 2 cup mark.
Rinse the pot liner, then spray with nonstick cooking spray. Switch back to saute mode. Add carrots, onions, celery, and seasoning. Cook, stirring occasionally, for about 5 minutes.
Stir in minced garlic and continue cooking for a further 1 minute.
Pour in the dry sherry and cook until it evaporated.
Add tomato paste, stir well, then pour in 2 cups seafood broth.
Cover the pot and lock the lid. Set the machine to cook at high pressure. Set the timer to cook for 8 minutes.
Using the Quick Release method, bring pressure to normal. Carefully unlock and open the lid.
Ladle the bisque into a blender. Pour in the coconut milk and season with cayenne pepper. Blend until smooth.
Ladle into soup bowls. Serve hot.