Instant pot eggplant caviar recipe. A hearty eggplant caviar recipe that is perfect for a healthy vegan appetizer or side dish. For a sweeter variation, replace the onion with a sweet onion.
What ingredients are required for the recipe?
Ingredients required for a specific recipe can vary depending on what type of cuisine it is, but there are some common ones for almost all dishes. These include salt, pepper, garlic , tomatoes, paprika, basil, cumin or coriander seeds, parsley flakes or fresh chopped parsley leaves.
What are the health benefits of this dish?
Health benefits of this dish:
-This dish enables weight loss.
-It helps to lower the levels of cholesterol and blood sugar.
-It reduces chances of getting diseases like diabetes, heart disease, depression and anxiety.
-This dish is rich in vitamins and minerals.
-It provides proteins and omega3 fatty acids which are helpful for healthy skin and hair.
-This dish is gluten free and vegan friendly, so it can be consumed by people with food allergies or strict dietary restrictions.
Instant Pot Eggplant Caviar Recipe
You may also like:
Instant Pot Lobster Bisque Recipe
Instant Pot Joumou Soup Recipe
Slow Cooker Creamy Cauliflower Potato Soup
Instant pot Egyptian Koshari Rice Recipe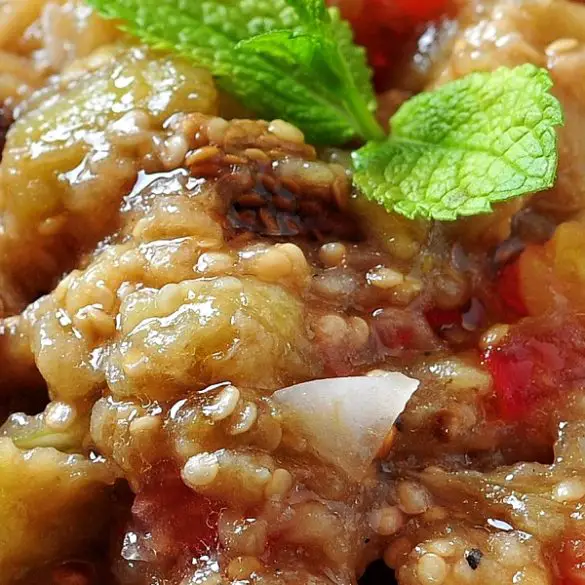 Ingredients
2 tablespoons Evoo oil

3 cups Italian eggplant, cubed

1 cup diced red bell pepper

1/2 cup diced tomatoes

1/2 cup diced yellow onions

8 cloves garlic, peeled and minced

1 tablespoon white wine vinegar

1 teaspoon kosher salt

1/2 teaspoon red pepper flakes

1/4 cup (60 ml) water
Instructions
Heat the Evoo oil in an electric instant pot turned to saute mode.
Add cubed eggplants and red bell pepper. Cook, stirring occasionally, for about 5 minutes or until eggplants are golden brown.
Pour in the vinegar and deglaze the pot, scraping any browned bits from the bottom of the cooker.
Add tomatoes, onions, red pepper flakes, garlic, and salt. Stir well.
Pour in 1/4 cup (60 ml) water. Mix well.
Close the pot and lock the lid. Set the machine to cook at high pressure. Set the timer to cook for 4 minutes.
Using the Quick Release method, bring pressure to normal. Carefully unlock and open the lid.
Using a wooden spatula, mash the spread. Serve with toasted baguette or pita chips.