Instant pot Egyptian koshari rice recipe. Cook delicious spiced vegetarian dish in an instant pot.
Instant Pot Egyptian Koshari Rice Recipe
You may also like:
Instant Pot Scalloped Potatoes Recipe
Air Fryer Roasted Corn on the Cob Recipe
Air Fryer Bruschetta with Tomato and Basil
Air Fryer Glazed Donuts Recipe
Air Fryer Sweet Potato Cubes Recipe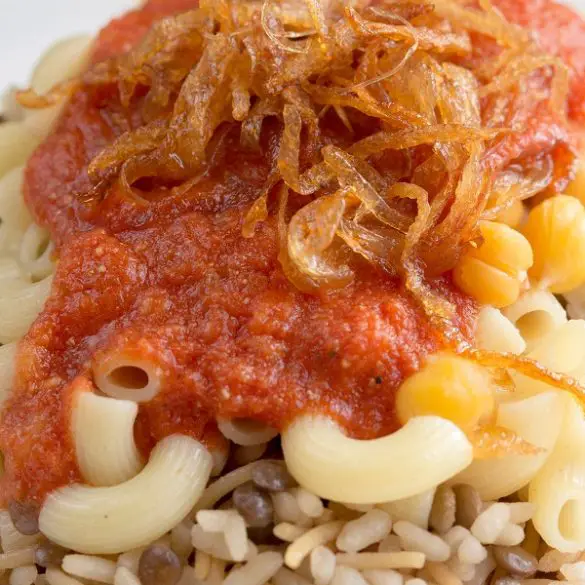 Ingredients
2/3 cup brown lentils, rinsed

1 cup long-grain brown rice

1/2 cup dried chickpeas

3½ cups (865 ml) water

1 cup gluten-free macaroni

To Make Tomato Sauce:

1 teaspoon olive oil

1/2 yellow onion, peeled and diced

2 garlic cloves, peeled and minced

1 tablespoon ground cumin

1 tablespoon paprika

1 teaspoon ground cinnamon

1/4 teaspoon cayenne pepper

15 oz (450 ml) can tomato sauce

1 tablespoon white vinegar

To Make Crispy Onions:

1/2 yellow onion, peeled and very thinly sliced

1 tablespoon olive oil
Instructions
In a 6-quart (6 L0 electric instant pot, combine rinsed lentils, brown rice, chickpeas, and water. Mix well.
Close the pot and lock the lid. Set the machine to cook at high pressure.
Set the timer to cook for 22 minutes.
Using the natural Release method, bring pressure to normal.
Carefully unlock and open the lid.
Meanwhile, bring a medium saucepan of water to a boil over medium-high heat. Add pasta and cook according to the package instructions.
Remove the pan from the heat. Drain cooked pasta, rinse, then transfer to a bowl. Keep warm.
To Make the Tomato Sauce: Heat the olive oil in a medium saucepan over medium-low heat.
Add thinly sliced onion. Cook, stirring occasionally, for 5 minutes. Add the garlic and continue cooking and stirring for a further 30 seconds. Sprinkle with cumin, paprika, cinnamon, and cayenne pepper.
Toast the spices for about 1 minute, then pour in the tomato sauce and vinegar. Mix well.
Cover the pot and simmer over low heat for 20 minutes.
To Make the Crispy Onions: Separate sliced onions and place them on paper towels. Using another paper towel, press down on the onions to remove some moisture.
Heat the cast-iron skillet over medium heat. Add the olive oil.
When the oil is hot, drop the onions into the hot oil. Cook, stirring occasionally, for 7-8 minutes.
To serve, scoop some lentil/chickpea, rice mixture into a large plate, then layer cooked pasta, and top with tomato sauce.
Sprinkle with crispy onions. Serve hot.