Instant pot curried red lentil soup recipe. Our healthy and hearty red lentil soup is a warming and flavourful meal for the colder months. It's a vegan and gluten-free dish that's ready in just 20 minutes.
What are some of the benefits of using an Instant Pot to make this recipe?
An Instant Pot is a type of electric pressure cooker that permits cooking food in much less time than other cooking options.
The Instant Pot is an appliance that makes cooking quick, simple, and easy – it's perfect for beginners and veterans alike.
The main benefit of using an Instant Pot to make this recipe is the speed. The Instant Pot cuts the cooking time in half compared to traditional methods. It also guarantees tender meat and veggies with minimal effort and cleanup, which means you can enjoy your meal sooner and spend more time doing the things you love.
Why is it important to use a red lentil soup recipe?
It is important to use a lentil soup recipe because it can be a healthy and hearty meal that is full of protein. Lentils are also an inexpensive food that is full of nutrients, making them an excellent budget-friendly choice for dinner.
Because lentils are cheap and nutritious, they offer the perfect solution to people who need easy, affordable meals for their families.
Does this recipe have any health benefits?
There are many benefits to cooking your own food. A major one is that you know what is in the food you are eating.
Some recipes include ingredients that people may not want in their diets, such as sugar or fat. Some recipes might even contain allergens, like eggs. A recipe could also be low in nutrients, like vitamin D or calcium.
The health benefits of a dish depend on the ingredients used and what you eat it with.
Instant Pot Curried Lentil Soup Recipe
You may also like:
Instant Pot Eggplant Caviar Recipe
Instant Pot Lobster Bisque Recipe
Instant Pot Joumou Soup Recipe
Instant Pot Homemade Curd Cheese Recipe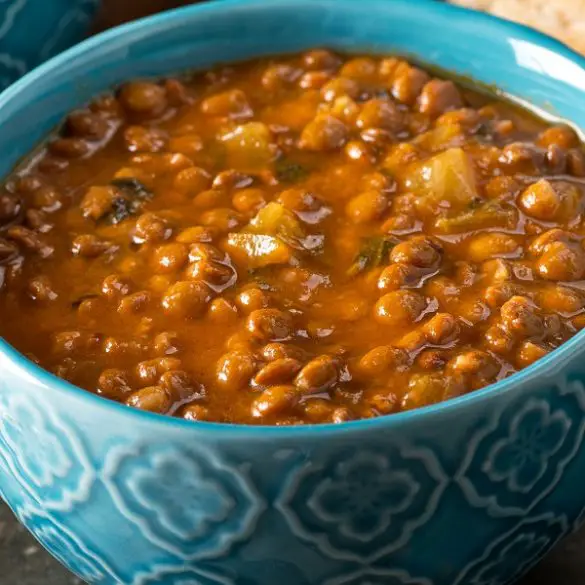 Ingredients
2 tablespoons olive oil

1 medium yellow onion, peeled and chopped

1 cup cubed potatoes

1 tablespoon finely chopped garlic

1 tablespoon grated ginger

1 tablespoon curry powder

1/2 teaspoon garam masala

1/2 teaspoon red curry paste

1/2cteaspoon kosher salt

1/4 teaspoon crushed red pepper flakes

1/4 teaspoon freshly ground black pepper

3/4 cup red lentils

14 oz (435 ml) can chopped tomatoes with sauce

2 cups (625 ml) vegetable broth

13 oz (405 ml) unsweetened coconut milk

1/4 cup chopped fresh cilantro, for garnish
Instructions
Heta the coconut oil in an electric instant pot turned to saute mode.
Add the onions and cook, stirring occasionally, until softened and translucent, for about 7-8 minutes. Stir in garlic, ginger, curry, garam masala, red curry paste, salt, black pepper, and red pepper flakes. Cook, stirring, for a further 3 minutes, or until very fragrant.
Mix in lentils, potatoes, and tomato sauce. Continue cooking for an additional 2 minutes.
Pour in the vegetable broth, reserve 1/4 cup (60 ml) of coconut milk, and set aside. add remaining coconut milk to the pot. Mix well to combine.
Cover the pot and lock the lid. Set the machine to cook at high pressure. Set the timer to cook for 15 minutes.
Using the Quick Release method, bring pressure to normal. Carefully unlock and open the lid.
Serve with reserved coconut milk and chopped fresh cilantro.