Slow cooker turkey and spinach stuffed shells. A healthy twist on a stuffed shells recipe that has spinach, turkey, and a creamy tomato sauce. These stuffed shells have the perfect balance of flavor and texture.
What are the benefits of slow cooker turkey and spinach stuffed shells?
Slow cooker turkey and spinach stuffed shells are a delicious and easy-to-make meal for the entire family to enjoy.
The benefits of slow cooker turkey and spinach stuffed shells are that it is an easy dish to prepare, healthy, filling, and full of flavor. This recipe can be modified as desired by adding different vegetables or substituting ingredients for those that you have on hand. It is a dish that can be enjoyed by people of all ages.
How many calories are in one serving of slow cooker turkey and spinach stuffed shells?
The slow cooker turkey and spinach stuffed shells recipe has an average of about 300 calories in one serving. The actual calories range from about 220 to 430 per serving, depending on what is in the dish.
The total calories per dish are around 600-700.
What are some side dishes that can go with this meal?
This is not a question that can be answered with one single answer. There are so many combinations of dishes that go well with this meal, there's no way I can list them all here.
Potato salad, mashed potatoes, rice pilaf, orzo salad, spinach salad
The best way to determine the side dishes is to ask the person who made the meal.
Slow Cooker Turkey and Spinach Stuffed Shells
You may also like:
Instant Pot Curried Lentil Soup Recipe
Instant Pot Eggplant Caviar Recipe
Instant Pot Joumou Soup Recipe
Air Fryer Golden Bananas with Chocolate Sauce Recipe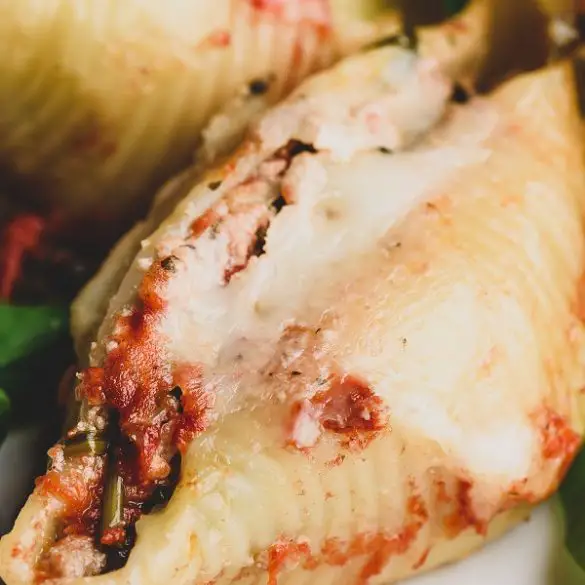 Ingredients
28 jumbo shells

4½ cups (1.12 L) marinara sauce

1 tablespoon avocado oil

1 cup diced red onion

3 garlic cloves, peeled

1 pound (480 g) ground turkey

1½ cups ricotta cheese

1 tablespoon dried oregano

1 tablespoon dry basil

1 tablespoon dry parsley

1/2 teaspoon garlic powder

salt and freshly ground black pepper, to taste

4 cups diced fresh spinach

3/4 cup shredded Mozzarella cheese
Instructions
Heat the avocado oil in a large nonstick skillet over medium-high heat. Add diced onions and cook, stirring occasionally, until translucent, for about 3-4 minutes. Add garlic and saute for a further 30 seconds. Stir in ground turkey. Cook, stirring occasionally, until turkey is no longer pink, for about 5-7 minutes. Mix in fresh spinach and cook, stirring occasionally, until the spinach is wilted, for an additional 1-2 minutes. In a large mixing bowl, combine ricotta cheese, turkey and spinach mixture, dried herbs, garlic powder, salt, and black pepper. Mix well to combine. Stuff each jumbo shell with cheesy turkey mixture. Pour 3 cups (750 ml) of marinara sauce into the slow cooker. Top with half of the stuffed shells. Spoon the remaining marinara sauce over the shells. top with remaining stuffed shells and finish with the rest of the sauce. Cover the pot and cook in a low-heat setting for 6 hours or until the shells are ready. Turn off the cooker and open the lid. Remove cooked shells along with cooking liquid and transfer to a serving plate. Sprinkle with shredded Mozzarella cheese.