Slow cooker lamb curry. This lamb curry is the perfect dish for a cold winter evening — slow cooking makes it so flavourful and tender, even the toughest cuts of meat will melt in your mouth! The recipe is quite simple and you can easily make it at home.
Why use a slow cooker for cooking lamb curry?
Slow cookers are a great way to cook lamb curry. They are inexpensive, easy to use, and can be used for a variety of dishes.
The benefit of using a slow cooker for cooking lamb curry is that it requires minimal effort and clean-up. The slow cooker will help you create the perfect meal without any hassle or stress.
The recipe is quite simple and you can easily make it at home.
It takes about 6 hours to cook and the result is a delicious curry that has no hidden ingredients.
You can serve it with rice, naan, or even pita bread.
The best part is that you only need one pot for this dish.
This recipe will take you less than 20 minutes to prepare, which makes it perfect for a weeknight dinner as well as for entertaining guests on the weekend.
Why is Lamb Curry such a Popular Dish for Winter?
A slow cooker is an electric countertop kitchen appliance that cooks food slowly at a low temperature. It's a great way to cook foods that would otherwise require hours of watching over the stove. Slow cookers are perfect for cooking tough cuts of meat because they break down tough connective tissue, which can make meat more tender and flavorful.
The slow cooker lamb curry is popular as it's an easy dish to prepare with minimal prep time and it has a delicious taste. The ingredients can be found in most grocery stores, and the recipe is easy to follow with few steps. This dish is perfect for wintertime as it requires minimal work on the stovetop and can be left to simmer all day while you go about your day without worry.
Slow Cooker Lamb Curry
You may also like: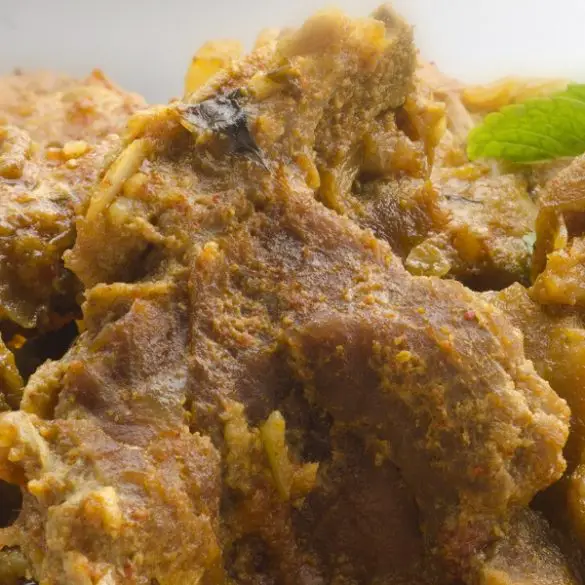 Ingredients
2 pounds (960 g) lamb shoulder, cut into pieces

1/2 cup (125 ml) yogurt

1 teaspoon ground turmeric

1 teaspoon salt

4 tablespoons olive oil

1/2 cup chopped yellow onion

1 tablespoon minced garlic

1 teaspoon ground ginger

2 green chilies, finely chopped

2 tablespoons curry powder

1 tablespoon red chili powder

2 tablespoons ground coriander

1 teaspoon garam masala

1½ cups (365 ml) tomato puree

3/4 cup (180 ml) water

1 tablespoon chopped cilantro
Instructions
In a large mixing bowl, combine cubed lamb, yogurt, and salt. Stir well and set aside.
Allow the mixture to marinate for at least 1 hour.
Heat 1 tablespoon of oil in a small pan over medium-high heat.  Add onions, garlic, and ginger. Saute, stirring occasionally until onions are golden brown.
Place marinated lamb cubed in a slow cooker. Add the cooked onion mixture and the remaining ingredients, except chopped cilantro. Stir well.
Cover the pot and cook on a low-heat setting for 6-8 hours, or until the lamb is tender.
Remove cooked lamb curry from the cooker and transfer it to a large serving plate. Sprinkle with chopped cilantro.
Serve hot.