Instant pot Louisiana jambalaya. Satisfy your Cajun cravings with this delicious Louisiana Jambalaya! Just add your favorite ingredients, press a few buttons and you'll have a mouthwatering meal in no time. Get your jambalaya fix now!
Welcome to the World of Louisiana Jambalaya
Welcome to the world of Louisiana Jambalaya, a dish that embodies the rich and diverse culinary heritage of the southern United States.
This iconic one-pot meal is a flavorful blend of influences from French, Spanish, and West African cuisines, resulting in a truly unique and delicious experience. In this post, we will take you on a journey through the history, ingredients, preparation, and cooking techniques of Jambalaya, unveiling the secrets to perfecting your own flavorful dish. So, get ready to immerse yourself in the tantalizing flavors and aromas of Louisiana Jambalaya!
What is Jambalaya?
Jambalaya is a yummy dish from New Orleans with influences from Africa, France, and Spain. It is thought to be created when Spanish settlers tried to make something like paella with Louisiana ingredients.
It has bold, spicy flavors and textures like juicy sausages, tender chicken, crunchy veggies, and soft rice. All these ingredients mix together to make a really tasty dish that you'll love.
To truly appreciate the flavors of Louisiana Jambalaya, it's important to understand its fascinating history and origins. This iconic dish can be traced back to the 18th century, when French and Spanish settlers arrived in Louisiana, bringing with them their culinary traditions.
Jambalaya is believed to have evolved from the Spanish dish paella, which was adapted to local ingredients and cooking techniques. Over time, West African influences also shaped the dish, adding a unique blend of spices and flavors.
Today, Jambalaya stands as a testament to the cultural melting pot that is Louisiana, showcasing the rich heritage and diverse influences that make it so special. So, let's dive deeper into the ingredients and preparation methods that bring this flavorful dish to life!
Ingredients and Preparation
Now that we understand the history and origins of Jambalaya, let's dive into the exciting world of ingredients and preparation methods that bring this flavorful dish to life.
Jambalaya is a true reflection of Louisiana's rich culinary heritage, combining a variety of ingredients to create a harmonious blend of flavors. The key components of Jambalaya include rice, meat (such as chicken, sausage, or seafood), and a medley of vegetables like bell peppers, onions, and celery.
These ingredients work together to create a symphony of tastes and textures in every bite. To enhance the flavors even further, Jambalaya is seasoned with a unique blend of spices, including paprika, cayenne pepper, thyme, and bay leaves.
The preparation of Jambalaya involves layering the ingredients and allowing them to slowly cook together, resulting in a dish that is bursting with flavor.
So, get ready to uncover the secrets behind the perfect Jambalaya as we explore the cooking techniques and tips in the next part of our recipe!
Cooking Techniques and Tips for Perfecting Your Jambalaya
Now that we have explored the ingredients and preparation methods, it's time to dive into the cooking techniques and tips that will help you perfect your Jambalaya.
The key to a delicious Jambalaya lies in achieving the perfect balance of flavors and textures. One important technique is to start by browning the meat, whether it's chicken, sausage, or seafood, as this adds depth and richness to the dish. Next, sauté the vegetables until they are tender and aromatic, releasing their natural flavors.
To infuse the rice with all the deliciousness, cook it in a flavorful broth or stock instead of plain water. This will ensure that every grain is packed with flavor. Another tip is to layer the ingredients in the pot, starting with the meat, followed by the vegetables, and finally the rice.
This allows the flavors to meld together beautifully as they cook. As Jambalaya is a one-pot wonder, it's important to resist the temptation to stir it too often. Let it simmer gently, allowing the flavors to develop and the rice to absorb all the delicious juices. And remember, patience is key when it comes to Jambalaya.
Allow it to rest for a few minutes after cooking to let the flavors fully come together. Now armed with these cooking techniques and tips, you're ready to create a mouthwatering Jambalaya that will impress everyone at your table. So let's get cooking and uncover the secrets to perfecting this flavorful dish!
Instant Pot Louisiana Jambalaya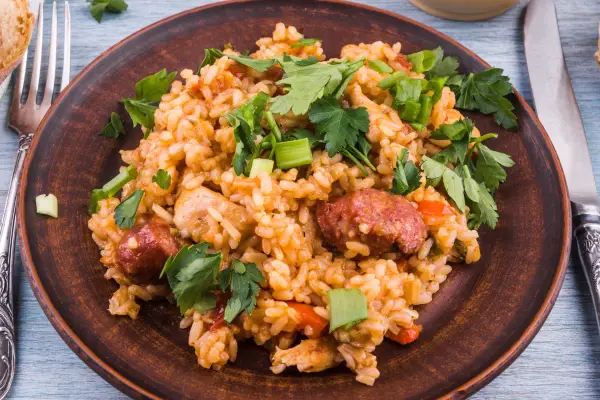 Ingredients
1¼ pounds (600 g) boneless and skinless chicken thighs

2 cups Jasmine rice

1 pound (480 g) Andouille sausages, sliced

1 red bell pepper, cored and diced

2 ribs celery, diced

1 tablespoon unsalted butter plus 1 tablespoon olive oil

1 yellow onion, peeled and diced

8 garlic cloves, peeled and minced

1 teaspoon tomato paste

1½ tablespoons soy sauce

2 cups (500 ml) unsalted chicken stock

1/4 teaspoon dried thyme

1/4 teaspoon dried oregano

1 teaspoon smoked paprika

1 teaspoon cayenne pepper

green onions, sliced
Instructions
Press the "Saute" button on your Instant Pot and select the "Sauté More" option. Wait until the screen reads "HOT" which should take about 8 minutes.
Add 1 tablespoon of unsalted butter and 1 tablespoon of olive oil to the Instant Pot.
Pat dry 1 1/4 pounds of chicken thighs with a paper towel.
Season one side with kosher salt and black pepper.
Place the chicken in the pot, seasoned side down.
Flip the chicken and season the other side with salt and pepper. Brown this side for another 3.5 minutes.
Take out the chicken and set aside.
Add Andouille sausages to the pot and saute for 3 minutes.
Add diced onions, red bell pepper, and celery to a pan and cook for two minutes.
Then add garlic, tomato paste, thyme, oregano, smoked paprika, and cayenne pepper to the pan. Cook for one more minute.
Pour in half a cup (125ml) of unsalted chicken stock. Then, use a spoon to scrape all the tasty brown bits from the bottom of the pot.
Move all the ingredients to one side, then add the browned chicken with its juice into the Instant Pot. Put 2 cups of jasmine rice, drained, into the Instant Pot.
Make sure the chicken goes in first, then add the rice on top. Pour 1 ½ cups of chicken stock into the Instant Pot to cover the rice.
Close the pot and lock the lid. Set the machine to cook at high pressure. Set the timer to cook for 7 minutes.
Using the Natural Release method, bring pressure to normal. Carefully unlock and open the id.
Taste the Jambalaya. If you need to, add some more seasoning. Put some sliced green onion on top and it's ready to eat!