Air fryer mac and cheese balls. These mac and cheese balls are the perfect snacks for game day! Made with leftover pasta, cheddar cheese, and seasoned breadcrumbs, they're crispy on the outside but creamy on the inside.
10 Richest Mac And Cheese Balls Recipe Ideas You'll Love To Make
Air fryers are quickly becoming the new microwave. They are being used in more and more kitchens. One of the main reasons is that they are fast, efficient, and easy to use. Air fryers can help you cook healthier food for your family.
2) Low Carb Mac & Cheese Bites
3) Air Fryer Creamy Cheddar Mac & Cheese
Air Fryer Mac and Cheese Balls
You may also like:
Instant Pot Curried Lentil Soup Recipe
Instant Pot Eggplant Caviar Recipe
Instant Pot Lobster Bisque Recipe
Air Fryer Golden Bananas with Chocolate Sauce Recipe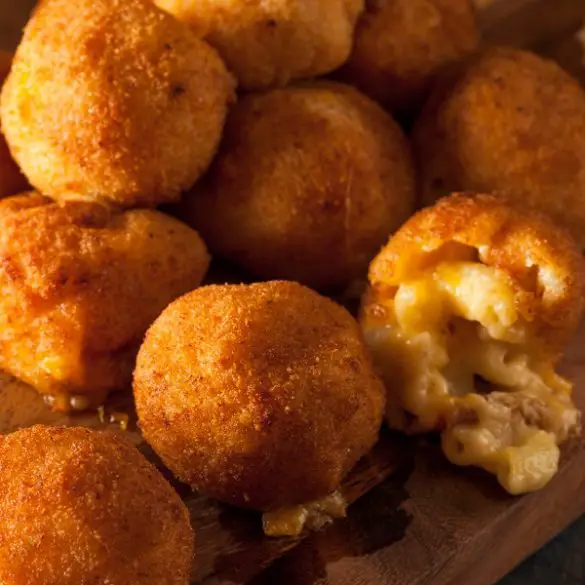 Ingredients
4 cups leftover macaroni ad cheese, refrigerated

2 large eggs, beaten

1 cup breadcrumbs

2 tablespoons milk

1 teaspoon salt

1 teaspoon paprika

1/2 teaspoon garlic powder
Instructions
Remove macaroni and cheese from the refrigerator. Take large chunks, about 2 tablespoons, and roll into balls. Set aside.
In a medium mixing bowl, combine beaten eggs and milk. Whisk well.
In another mixing bowl, combine all dry ingredients. Stir well to combine.
Dip macaroni and cheese balls into the egg and milk mixture, then in the breadcrumb mixture. Refrigerate for 30 minutes.
Preheat your air fryer to 360º F (180º C) for 5 minutes.
Remove mac and cheese balls from the refrigerator and transfer them to the air fryer basket.
Place them in a single layer. Fry at 360º F (180º C) for 8-10 minutes or until golden.
Serve hot.