Air fryer pecan rolls recipe. Pecan rolls are a delicious and traditional Southern dessert made with light, fluffy dough filled with pecans and iced with a sweet cinnamon glaze.
What are the benefits of air frying?
Air frying is a healthier alternative to traditional deep frying. You can fry food without oil or butter, and all you need is some good ventilation.
The benefits of air frying are as follows:
– Air-frying is a healthy alternative to deep-frying due to the lack of oil or butter.
– You can cook anything with an air fryer, from meatloaf to French fries.
– It cooks your food more evenly than traditional methods of cooking because it heats from both the top and bottom simultaneously.
How can I make air fryer pecan rolls?
Making air fryer pecan rolls is indeed a great idea for the holidays. They are easy to make, can be cooked in advance and heated up just before serving.
The only ingredients needed are ground pecans, butter, sugar, eggs, flour, and baking powder. The dough is mixed with butter, sugar, and eggs. It is then rolled out thinly on a floured surface to get them ready for the baking process. The dough is cut into shapes of the desired size after which they are cooked at 400 degrees Fahrenheit for about 12 minutes or until golden brown in color.
Air Fryer Pecan Rolls Recipe
You may also like:
Air Fryer Mac and Cheese Balls
Instant Pot Curried Lentil Soup Recipe
Instant Pot Eggplant Caviar Recipe
Air Fryer Golden Bananas with Chocolate Sauce Recipe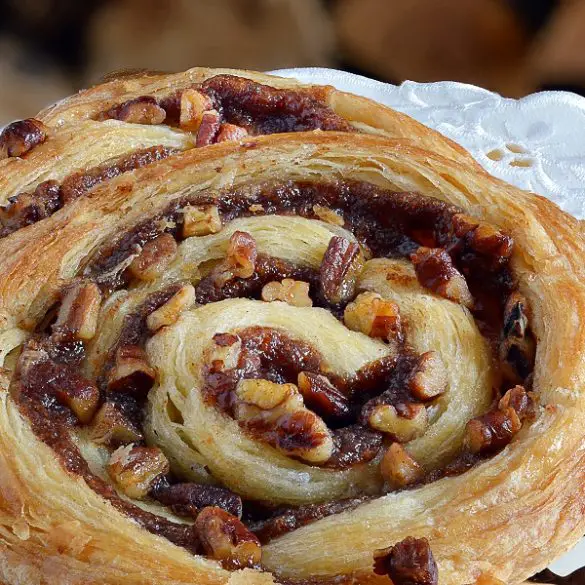 Ingredients
1/2 cup (125 ml) unsalted butter, melted

3/4 cup brown sugar

2 tablespoons corn syrup

1 cup diced pecans

1 package of Pillsbury cinnamon rolls
Instructions
In a small bowl, combine the melted butter, brown sugar, and corn syrup.
Mix well.
Pour the butter mixture into the small pan, then sprinkle with chopped pecans.
Top with the cinnamon rolls.
Arrange the pan in the air fryer basket. Fry at 330º F (165º C) for 14 minutes, flipping halfway through.
Remove fried pecan rolls from the fryer and transfer them to a wire rack.
Let cool slightly, before serving. Enjoy!